Introduction
The most important segment for brides and grooms on their D-Day is getting clicked in different poses. The secret ingredient of a perfect picture on your big day is nothing but the chemistry between you and your better half. That chemistry brings out the love between you and that will then reflect in your pictures. Couples want to get the best of pictures that they can on their wedding day as those pictures will let them relive their dream day in the years to come.
Many couples are camera-shy while many are not so shy to pose. However, we have listed down a number of must-try poses on your big day with your partner. Your love on that day should show through those images and definitely be brighter than the flashlight.
These poses are cinematographically perfect and will unquestionably tell your love story through your pictures. Without much ado, keep scrolling to find out the perfect poses you can master on your D-Day!
Suggested Read: How to Pose for your Wedding Pictures?
1. Love Is In The Air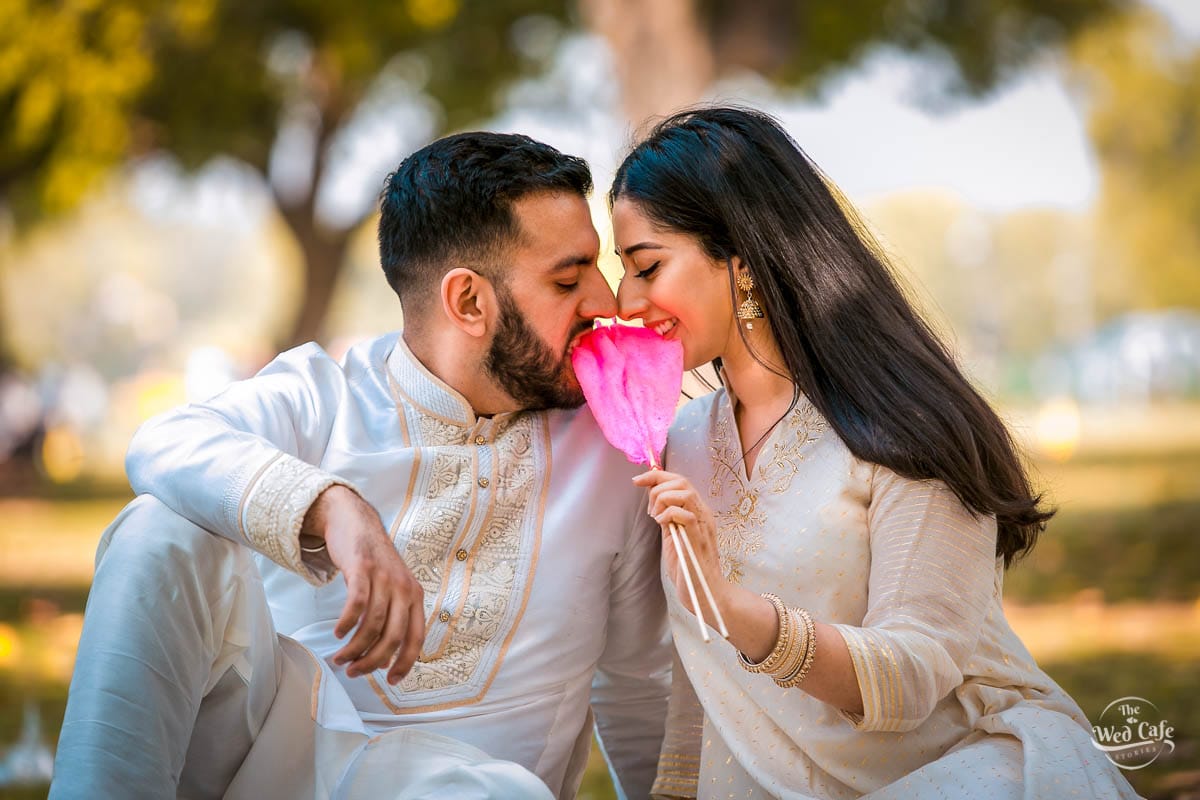 This pose is intimate and very dreamy. It also depends on where your comforts lie but if tried it looks absolutely magical. If you're a couple that isn't camera shy then do try this magical pose out to proclaim your chemistry and love.
Suggested Read: Fun Props Which Will Brighten Up Your Wedding Pictures
2. The Eyes Meet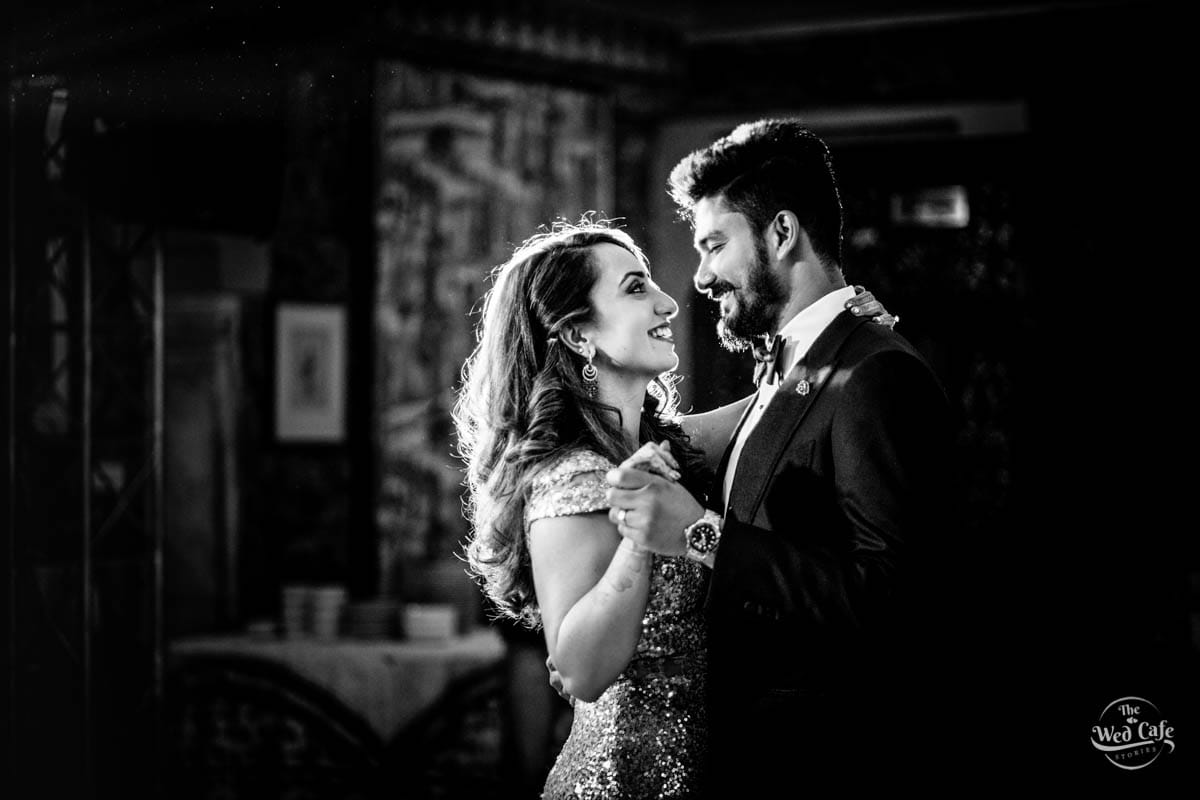 People say that love between a couple can be gauged by the way they look at each other. Well, why not? A pose like this has so much of romance and cuteness filled in it. You can either wrap your arms around your partner and look into each other eyes or stand close to each other and look into the eyes of each other with a definite blush on your cheeks.
Suggested Read: Family Photo Ideas To Make Your Wedding Album Memorable
3. The "I Will Be There For You"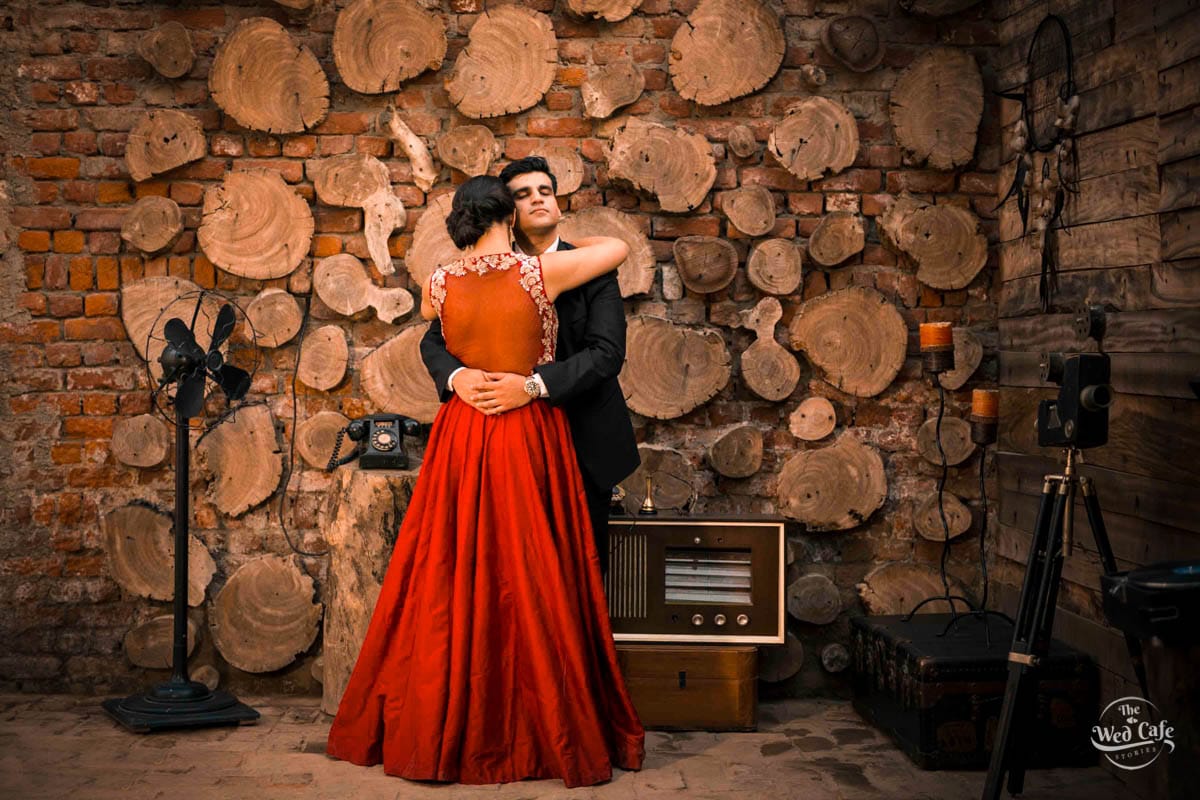 Another pose that is uberly cute. All you grooms out there, don't be afraid to hold your lady tight forever and always. This also is a must-try pose and must-have photograph in your pre-wedding or wedding album.
Suggested Read: Tips for your Bridal Portraits to win a million hearts!
4. Kiss Of Love
Seal the moment with a perfect kiss. What better than photographing it on your wedding day. This kiss would be so different and unlike any other and it is definitely something you would love looking back at whenever you flip the pages of your album. Your wedding and these moments are a once in a lifetime event so make sure you live it to the fullest and leave no regrets.
Suggested Read: Ways to Flaunt your Jewellery in your Wedding Photography
5. Lean Of Faith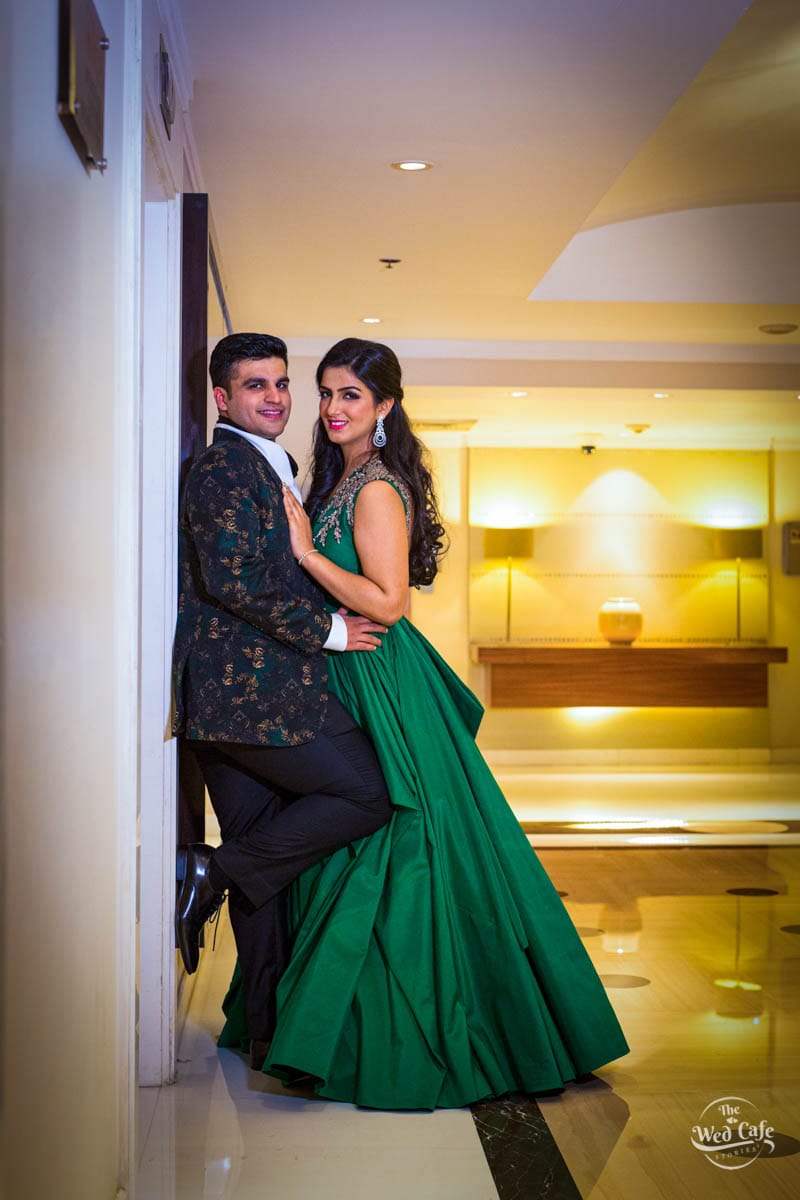 This is just a regular pose. It has a lot of meaning behind it, with one leaning over the other it means 'I am putting in all my trust in you'. That's what is needed in a marriage and there is nothing that can replace or compensate for trust.
Suggested Read: Beautiful Ways to Amp-up your Wedding Photos with Flowers
6. Something Monumental!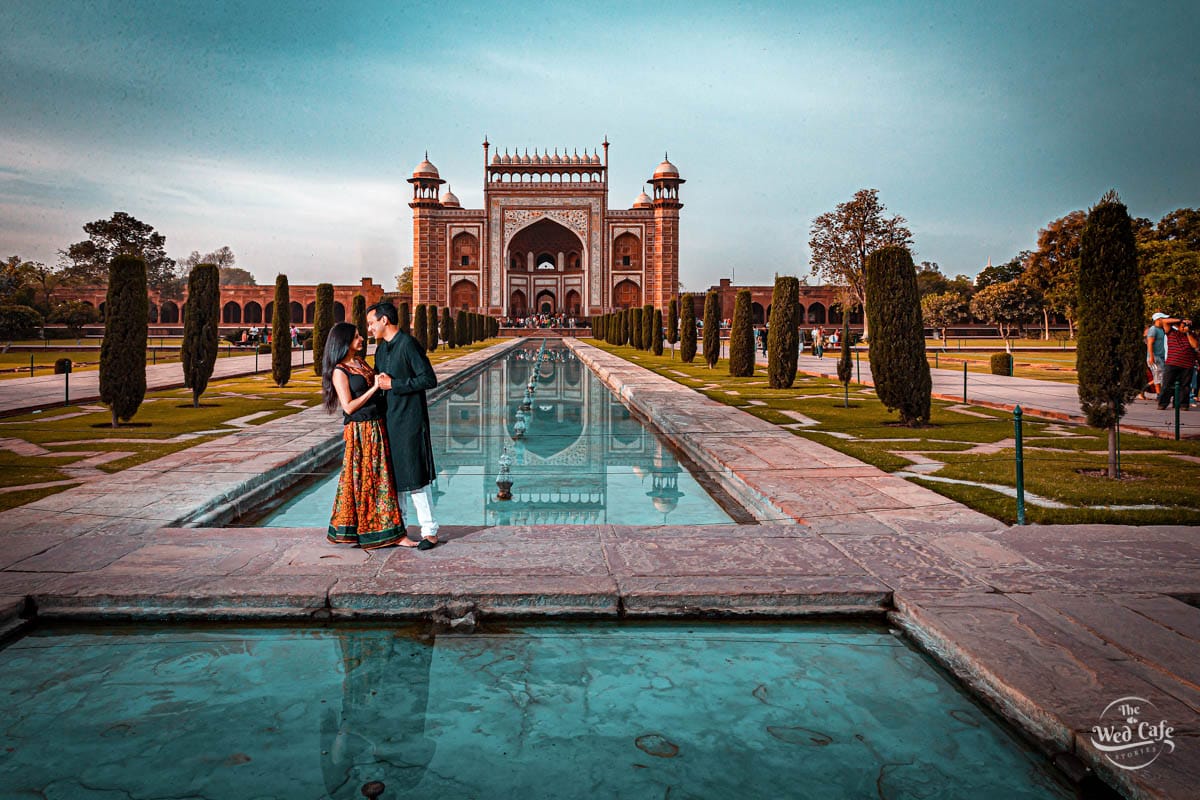 Getting clicked with your favourite monument behind you is soo surreal and it will always make you 'aww' when you look back at these pictures years down the lane. Something like this is so different and a must-try pose. What are your thoughts on this?
Suggested Read: Top Wedding Trends that will Rule 2020
7. Candids To The Win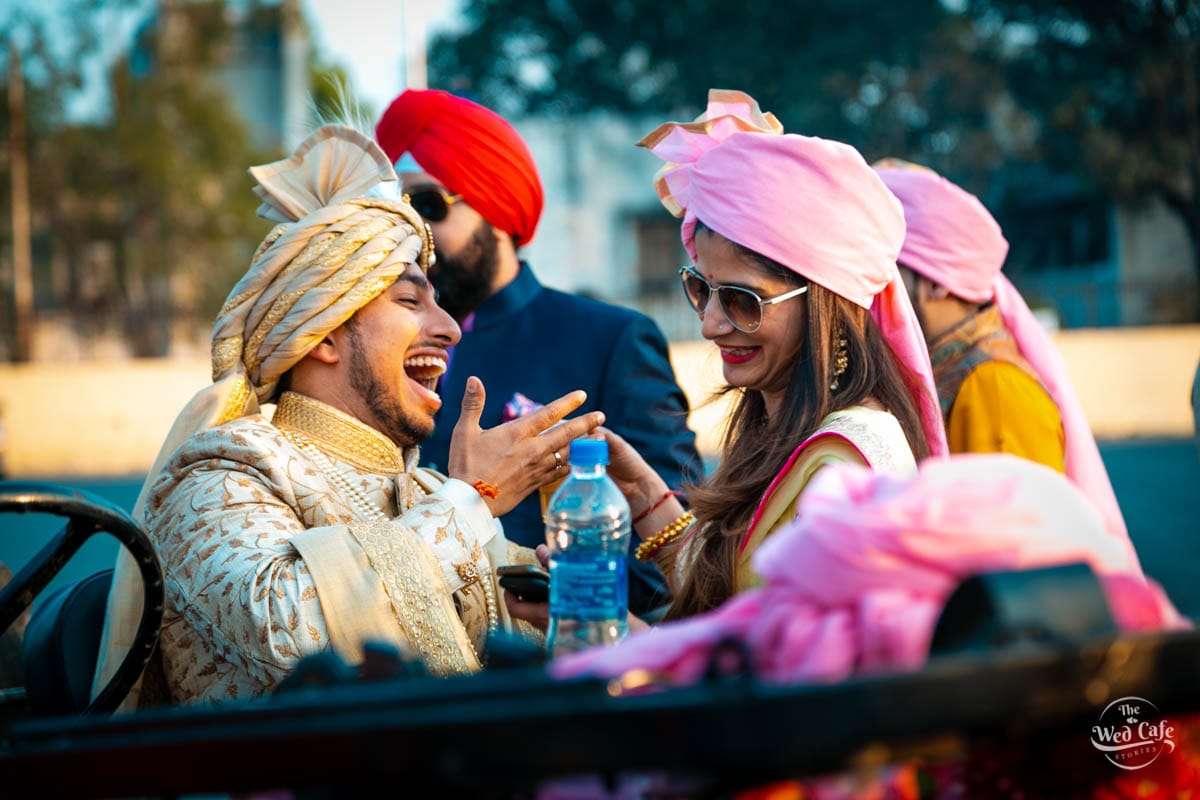 Candid photography has gained a lot of popularity these days among the to-be-wed couples. These days couples prefer natural photos rather than choreographed ones. They are also easy to take and sometimes you would be surprised to see the expressions that get captured with being photographed.
Suggested Read: Why You Need A Candid Wedding Photographer
8. Side by Side
Another famous pose among couples is the lie-down side by side pose. This may seem to be a slight challenge for the photographer and may also put his skills to the test but it is definitely worth the try. This picture can be achieved with the photographer capturing this one from a height while the couple smile and look into the eyes of each other.
Suggested Read: Best Wedding Photographers in Delhi
9. Bring Out That Quirky Side
Do not miss out on clicking some really fun and quirky pictures. Props act as the cherry on the cake undoubtedly. Nowadays you can find some really fun props, slogans and pluck cards that you can hold on to and click photos. This will be something so fun for you and your partner.
Suggested Read: 5 key things to consider while hiring a Wedding Photographer
10. Spin In Love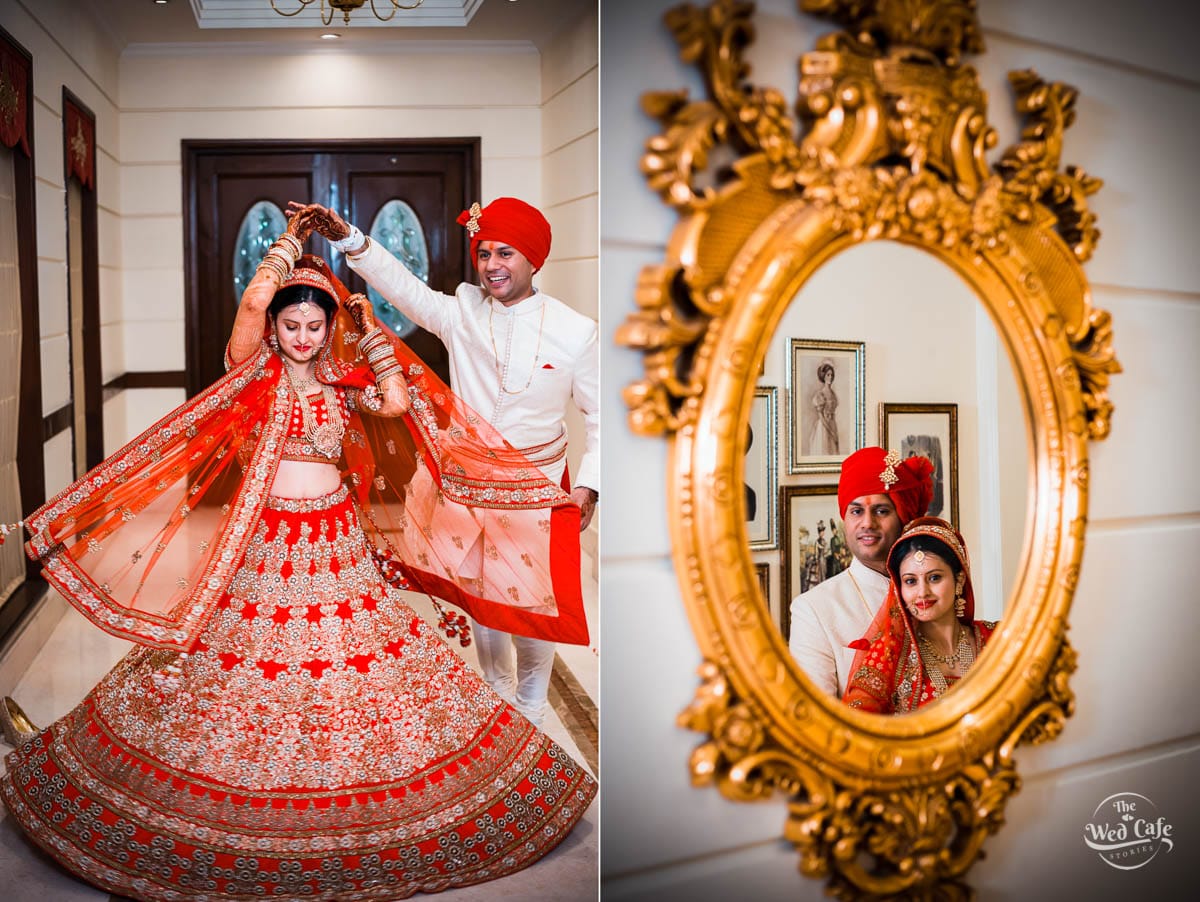 This looks so beautiful when captured correctly. This pose is a perfect one for your pre-wedding shoot album as well as your wedding album. This is so princessy and also looks so much like a fairytale so why miss this one? All you brides would totally love to see your dresses or lehenga flare in the air while you swirl with the love of your life holding on to your hand.
Suggested Read: Special Moments to Capture on your Wedding Day
11. The One With The Kala Chashma
[
Pictures of brides and grooms wearing sunglasses while dressed in their bridal outfit are so much in vogue now. It looks uberly classy. Keep those glares handy and give this one a shot. Also, these days a lot of glares with tiny lights attached to it is available in the market. Something like that would look amazing for a night or evening shoot.
Suggested Read: How to find the Best Photographer for your Wedding
12. In His Arms, Always & Forever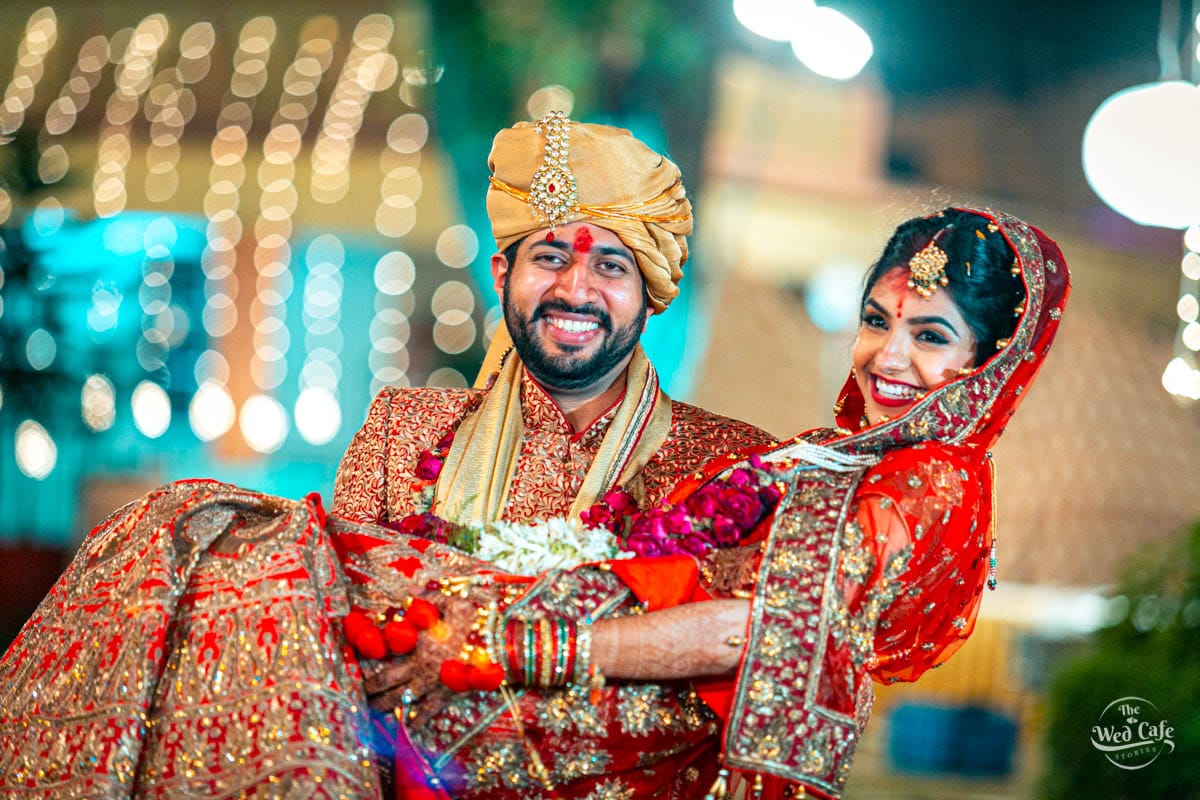 Your man is all happy to take you home and spend the rest of his life with you. You surely feel the safest and loved in your partner's arms. With those sentiments in mind and memories to cherish this pose will serve to be the perfect one. While he has you in his arms you can click so many pictures with you'll looking into each other eyes, kissing each other or maybe just looking at the camera and displaying your happiest smile.
Suggested Read: 6 Things you should keep in mind after choosing your Wedding Photographer
13. Poses Filled With A lot Of Love And Energy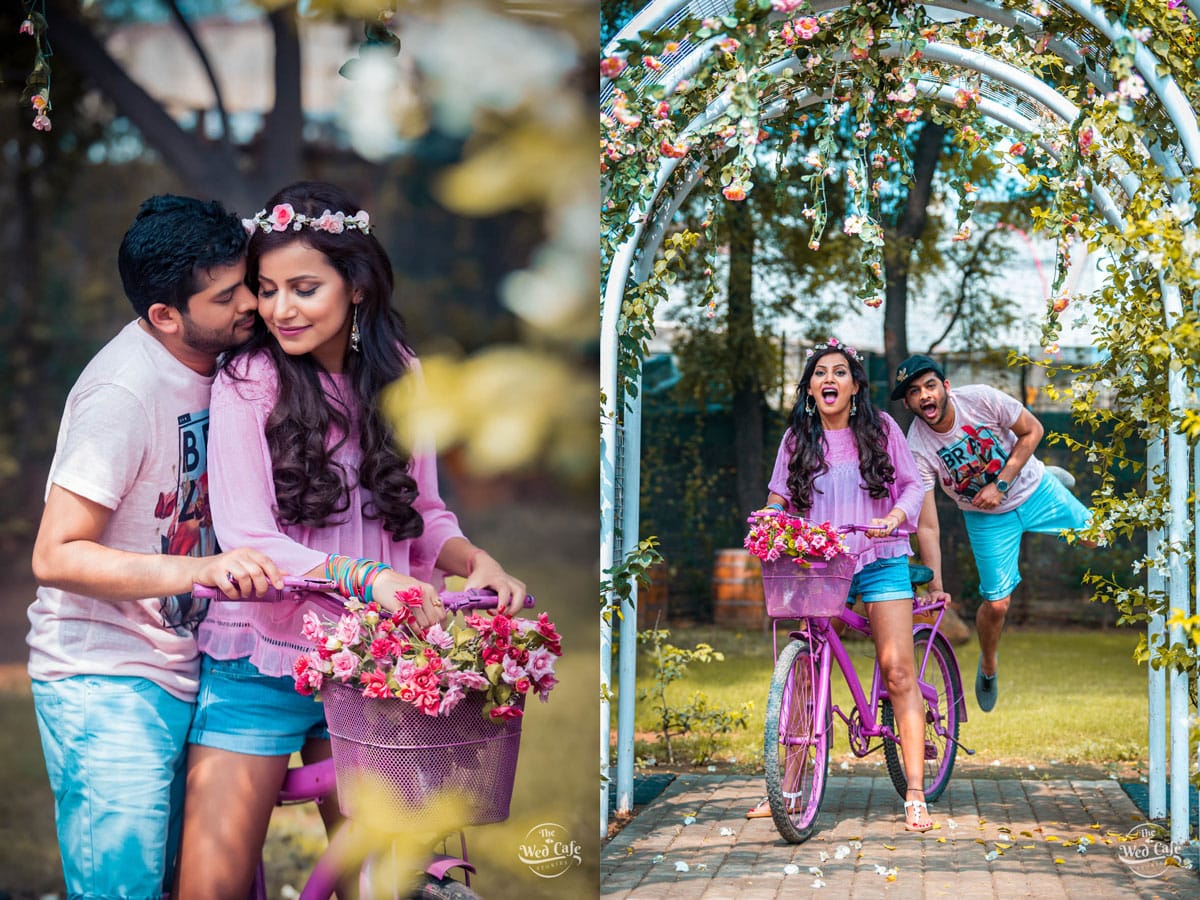 Posing on a cycle has always had its own romantic feel as we have seen in Bollywood movies. It brings out the romance between a couple which is then reflected in photographs. This picture is so beautifully clicked with a mix of two poses from the couple. If you are a couple who isn't camera shy then do try these fun poses. We assure that you will have so much fun being clicked.
Suggested Read: The Ultimate Checklist for Flattering Pre-Wedding Photoshoot
14. Add A Touch Of Sensuality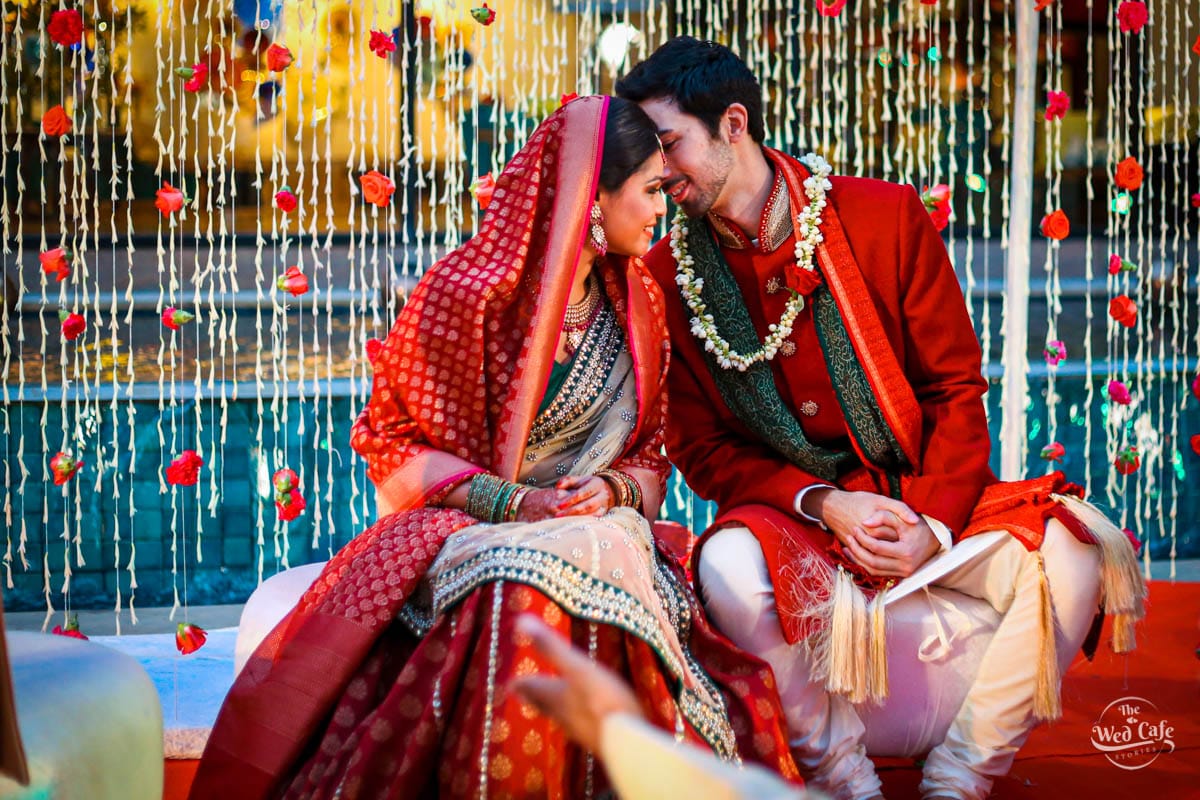 If you are a couple that is not very comfortable to kiss in front of the camera then no issues. You can rather try out a pose like this one which is of close proximity with your partner, let your foreheads touch and eyes meet and add slight hints of smiles and you will have a nice and romantic photograph.
15. He Has Got Your Back Always & Forever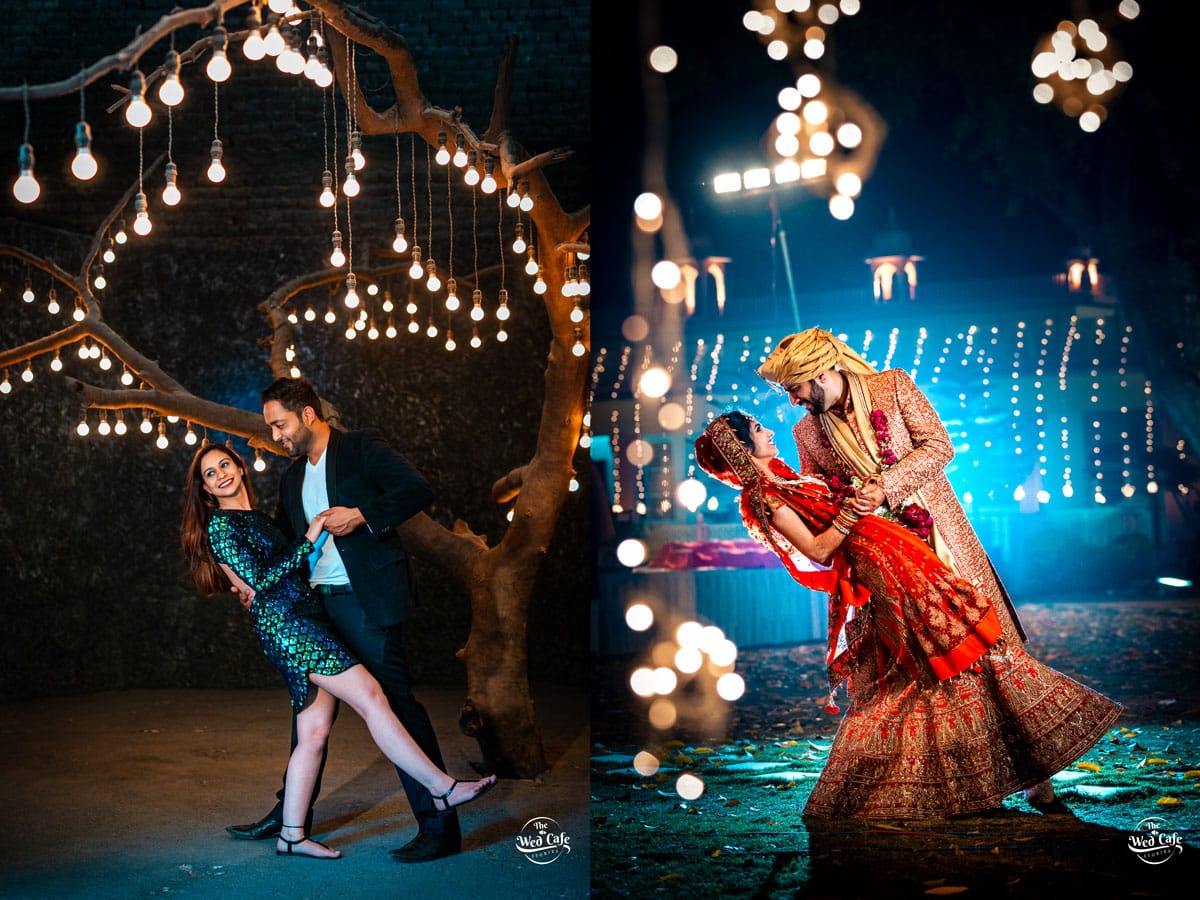 This pose is our favourite pose! While it looks so beautiful, it also has so much of meaning into it. It is his way to declare his love for you to say that he will always hold you tight and never let you fall no matter what. Do try this one out and you will absolutely enjoy every moment of this photograph while getting clicked.
16. Fun Haldi Moments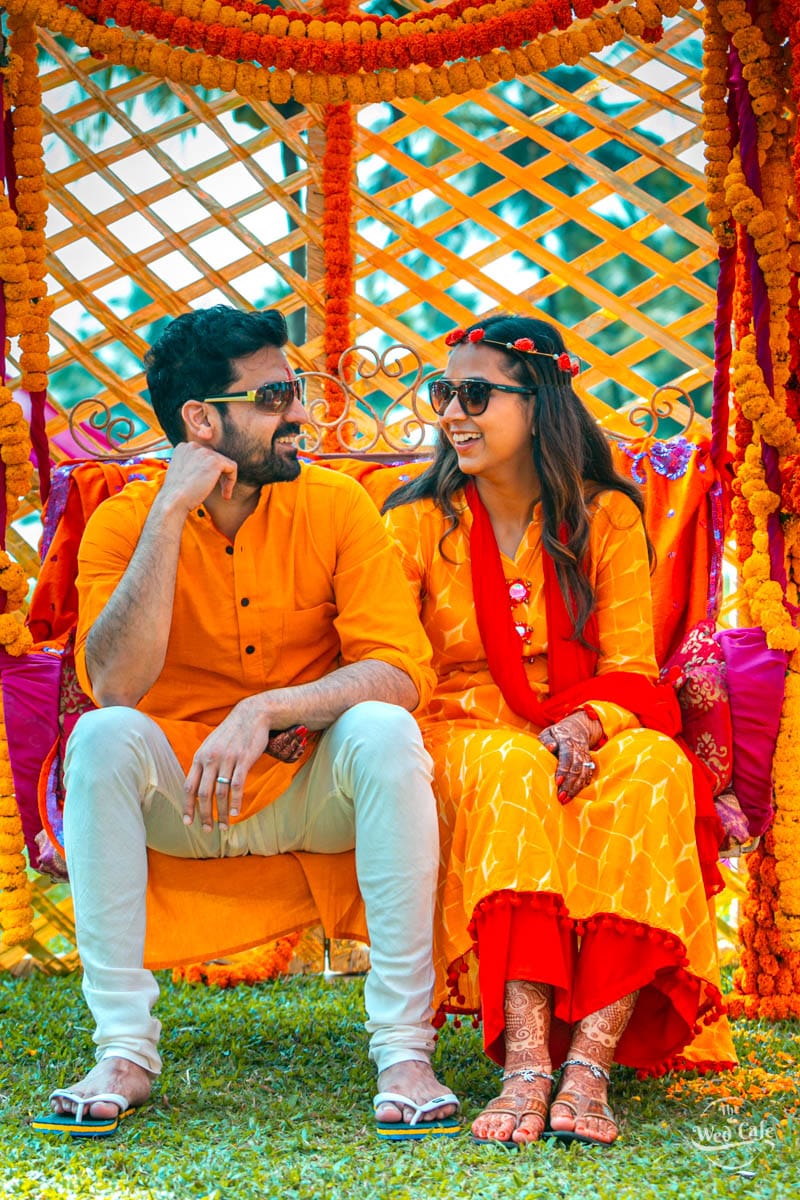 The Haldi ceremony is undoubtedly the most fun and exciting ceremony in Indian culture. This ceremony isn't just fun for you and your groom but also for your guests. The colours, surroundings and environment bring out a very chirpy vibe and lots of candids photos. Forget about the camera being around and enjoy the vibe and let the photographer do his best. You will enjoy these pictures every time you see them.
17. The Fun Jaimala Moments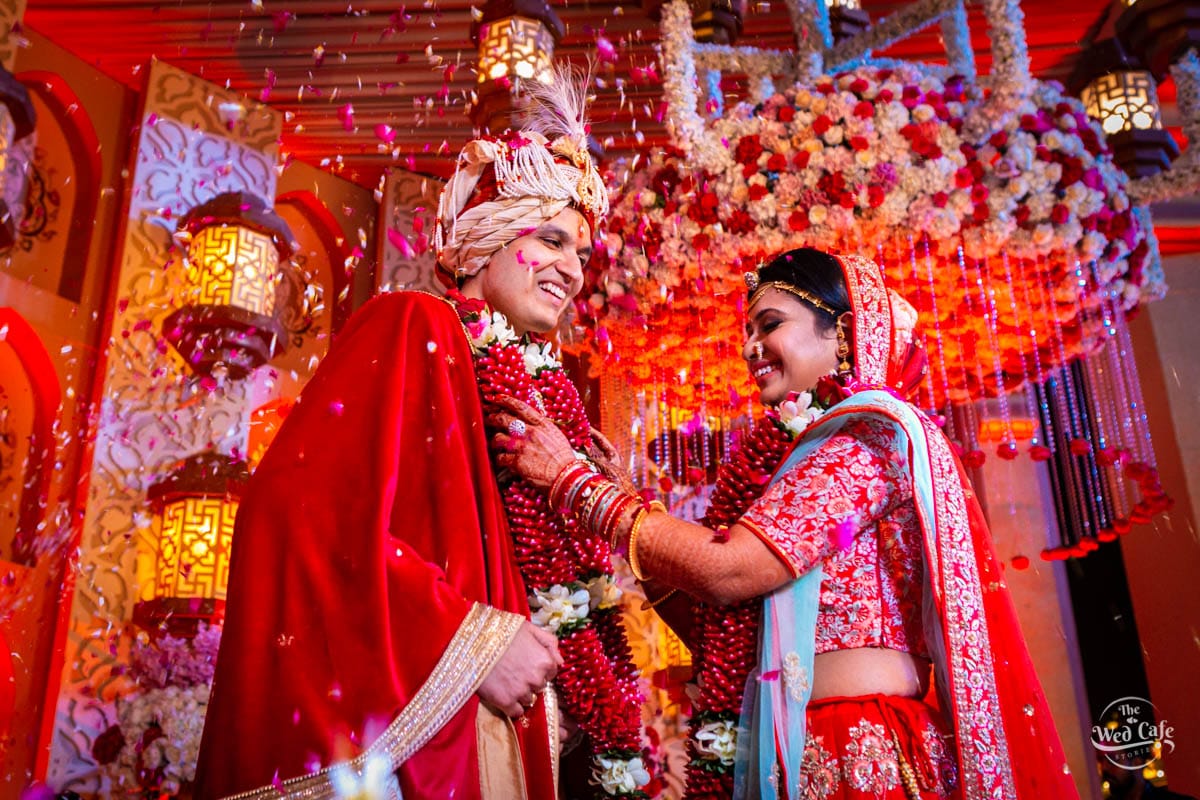 The Jaimala ceremony is always a fun one. Whether it is the cousins lifting you'll up when you'll are about to exchange garlands or if you are exchanging your garland on a revolving stage. These are some iconic moments of the wedding and hence need to be captured and put into your wedding album.
Conclusion
These poses can be easily replicated by you and your partner with ease depending on where your comfort level is in front of the camera. With weddings being a once in a lifetime event, these photos will stay with you forever as a fond memory of that special day in your life.
You can also pick different venues for these photos and also meet your photographer and discuss to get more ideas and suggestions over the same. Maintaining a good comfort level with your photographer will also help you and your partner feel more comfortable in front of the camera and that will help you get some really amazing photographs.
We would suggest you and partner to shortlist the poses you'll like and then give these poses a try in front of the mirror to get a better understanding of how would it look when you would replicate it during your main photoshoot session. This will also help you be super confident and comfortable in certain poses. Another very important tip from us – the more you enjoy your wedding celebrations, the better your pictures will look. So, be happy and enjoy your wedding celebration to the fullest.
With these poses are important, something even more essential in this process is a professional and skilled photographer. To turn your dream poses into reality and also to capture the best of your dream day you can contact us – The Wed Cafe.