Pre-wedding shoots are an amazing opportunity for couples to enjoy some beautiful moments with their partners away from the wedding hustle and bustle. While for some couples it might mean recreating their favourite movie song, for others it's about capturing raw, timeless moments spent together.
With the same old ideas and props, almost every pre-wedding shoot these days looks pretty much the same! What if we suggest some ideas which will completely change the way you do a pre-wedding shoot.
If you are confused, don't worry. We have handpicked some great ideas and themes which will make your pre-wedding photos stand out.
Here are top 10 Killer pre-wedding shoot Ideas: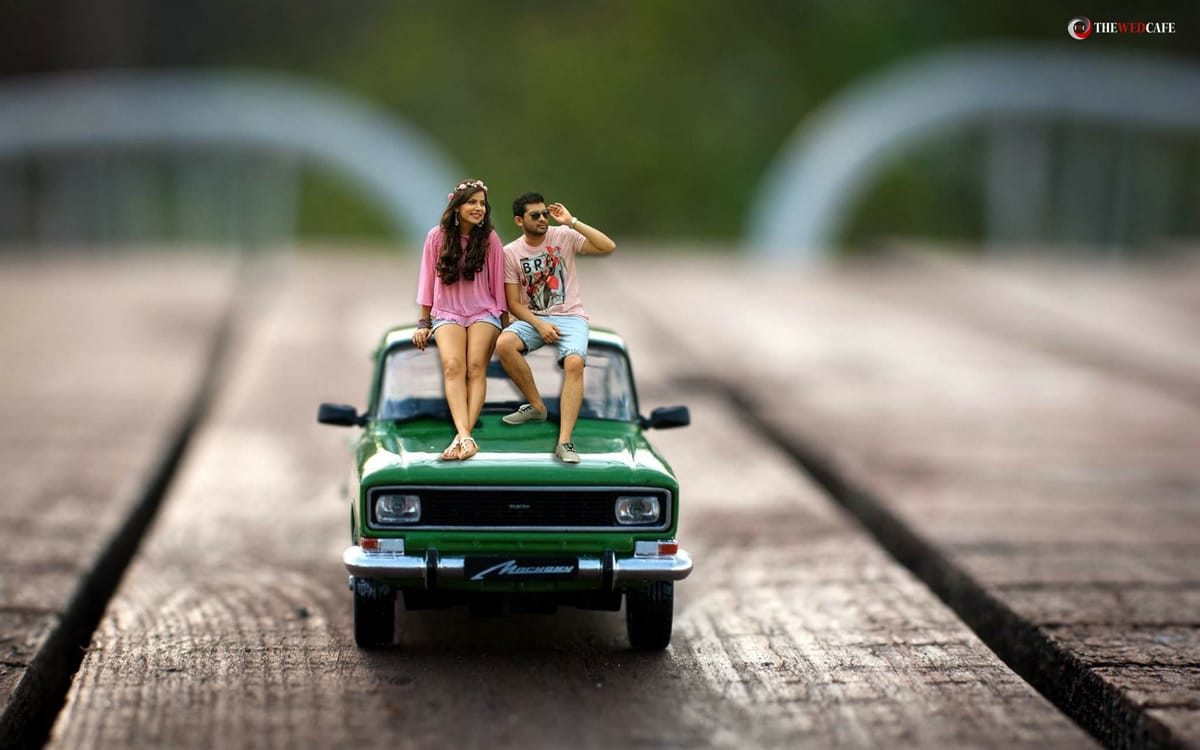 Who told you that you can't turn into your mini version? This miniature themed pre wedding shoot is the best way to explore the world in a different way. Couples who love experimenting should definitely try this one. It makes you look super adorable and the best part is that your pre-wedding album will look super unique!
But miniature photo shoots are easier said than done. If you want to get a miniature-themed photoshoot then plan it well in advance as it needs a lot of time and planning.
Suggested Read: What to wear on a pre-wedding shoot?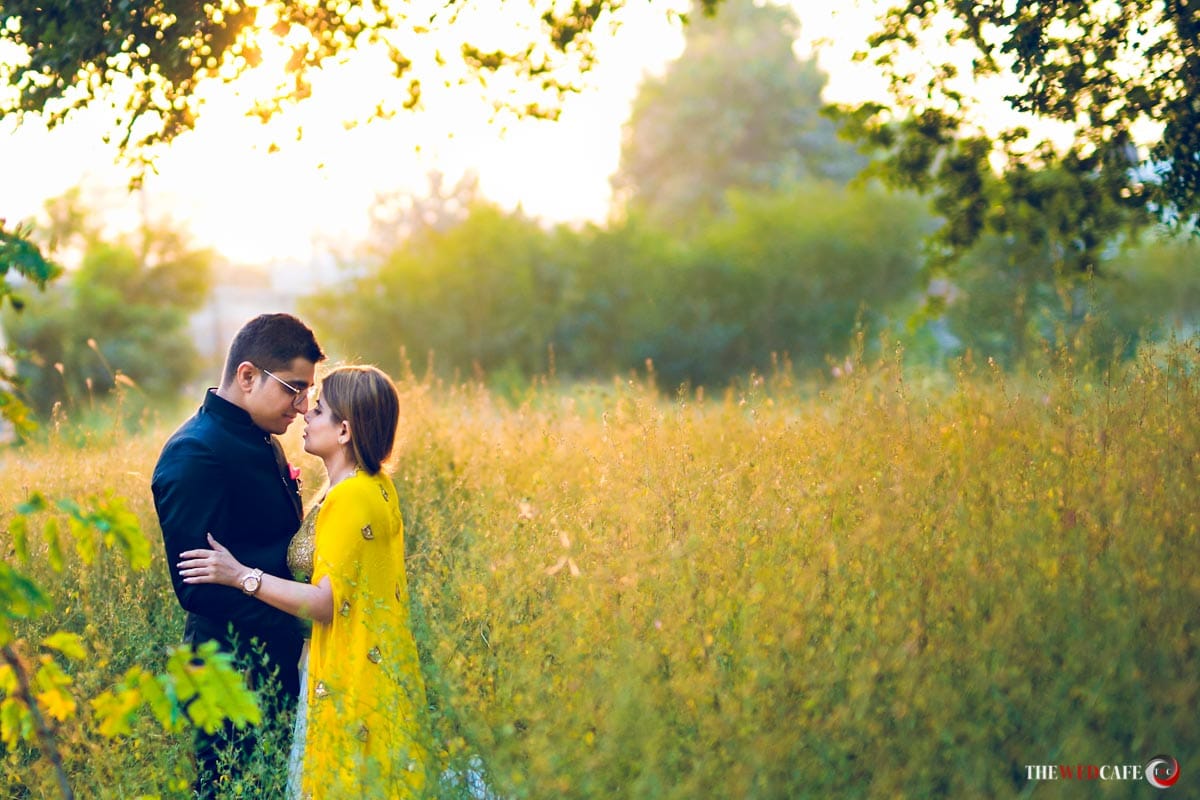 If you and your partner both are movie buffs, then how about doing a filmy photoshoot. Why not make your pre-wedding shoot look totally filmy. You can pick one of your favourite movies (Bollywood or Hollywood) and then recreate that look for your pre-wedding shoot. Isn't this totally cool.
Our suggestion would be to choose one of the most iconic films like DDLJ (Dilwale Dulhania Le Jayenge) and recreate their posters or that famous climax scene in a rail museum perhaps. Whatsay?
Be her Raj and she will be your Simran in this super-filmy pre-wedding photoshoot. If you want to re-live those legendary movie scenes then don't shy away from this theme of pre-wedding.
Check out our Pre-wedding Photography & Pre-wedding Videos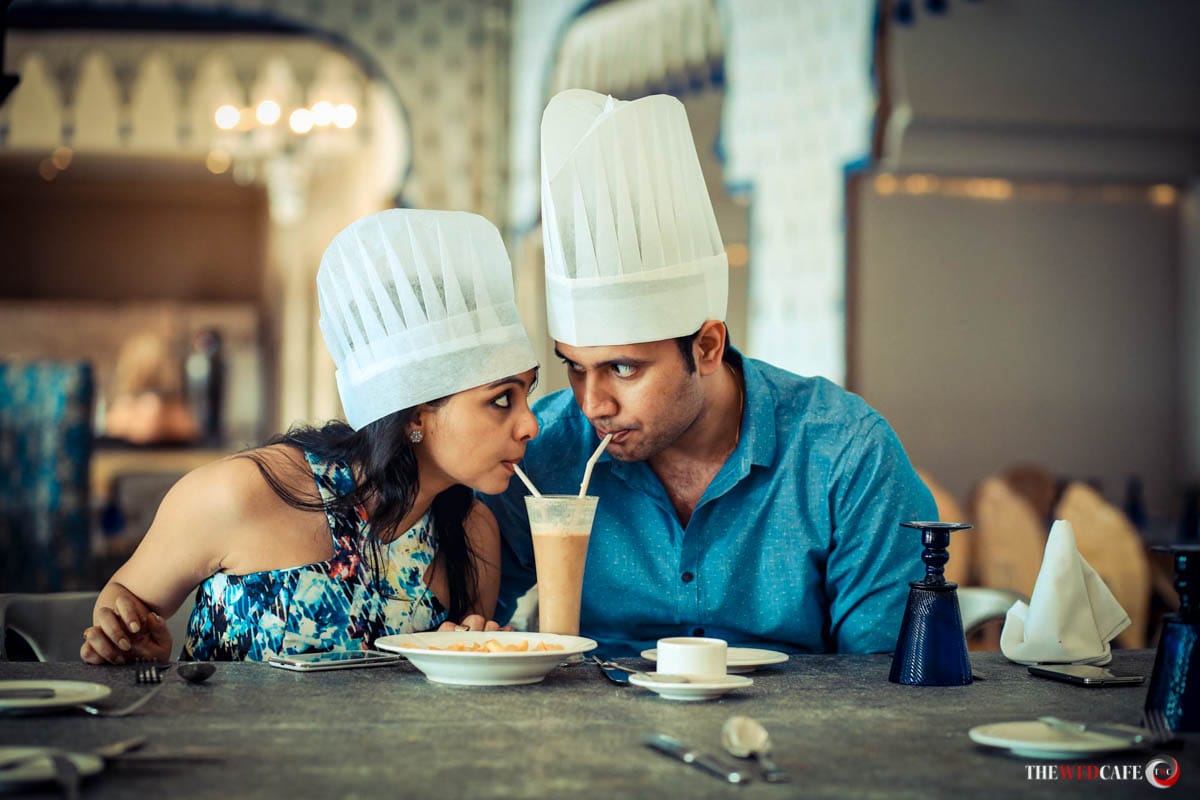 Are you one of those couples who love trying out new restaurants and cuisines? Or spend your weekend happily watching Masterchef series or cooking together new dishes? Then what are you waiting for? You have to go for this cute cooking theme for your pre-wedding shoot. Getting a photoshoot which reflects what you like beyond the usual will definitely be a bit different and a unique take on your fairy tale.
If you are a foodie couple, then you can get clicked with two loves of your life – food and your partner. This shoot will be memorable as you are enjoying while getting your shoot done at the same time. Perfect gift, isn't it?
Suggested Read: Things You Should Keep in Mind for An Outdoor Pre-Wedding Photoshoot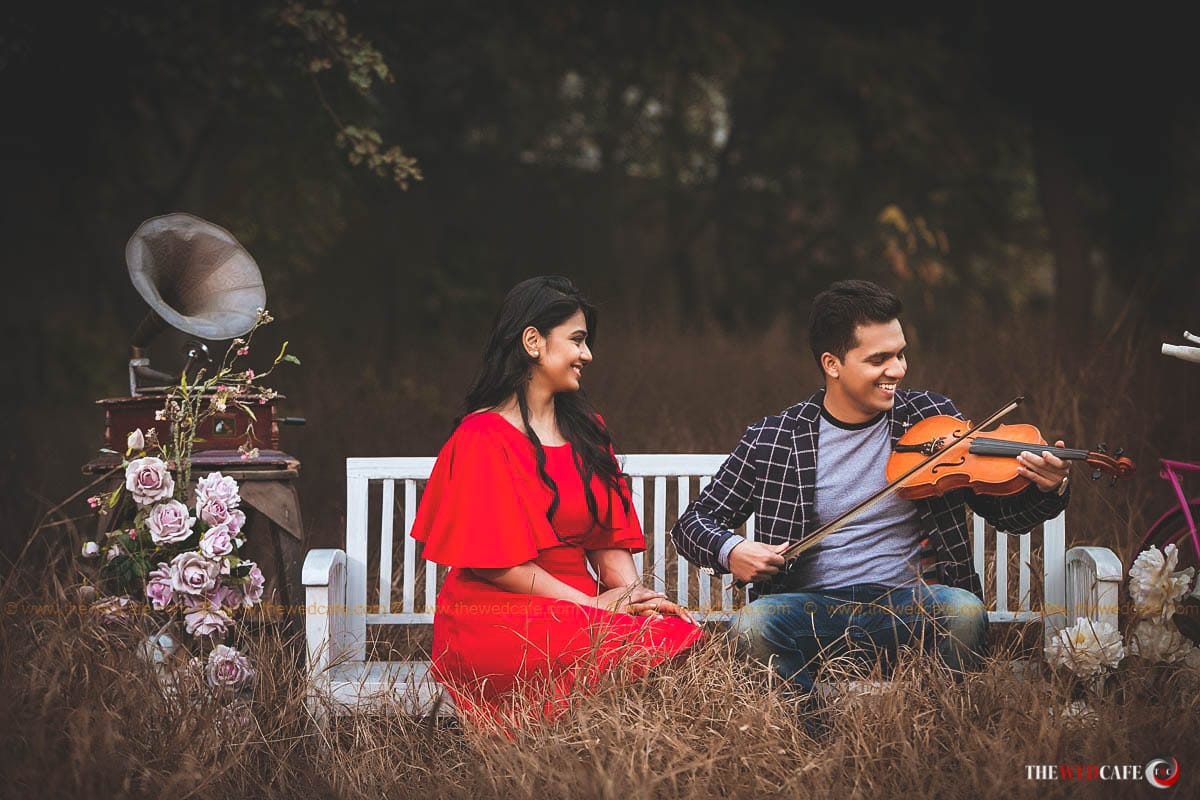 If you are one of those couples who loves classic or vintage looks then this would be one of the best possible themes for your pre-wedding photoshoot. Here, adding vintage props enhances the character of the overall look of the pre-wedding shoot. A gramophone in the background or perhaps one of those LPs (vinyl records). Don't forget to match your outfits according to the vintage look. Trust us, this photoshoot will stand out amongst all others.
Suggested Read: Why Pre-Wedding Photoshoots Are More Than Just A Trend?
5.Pre-wedding shoot with furry Buddies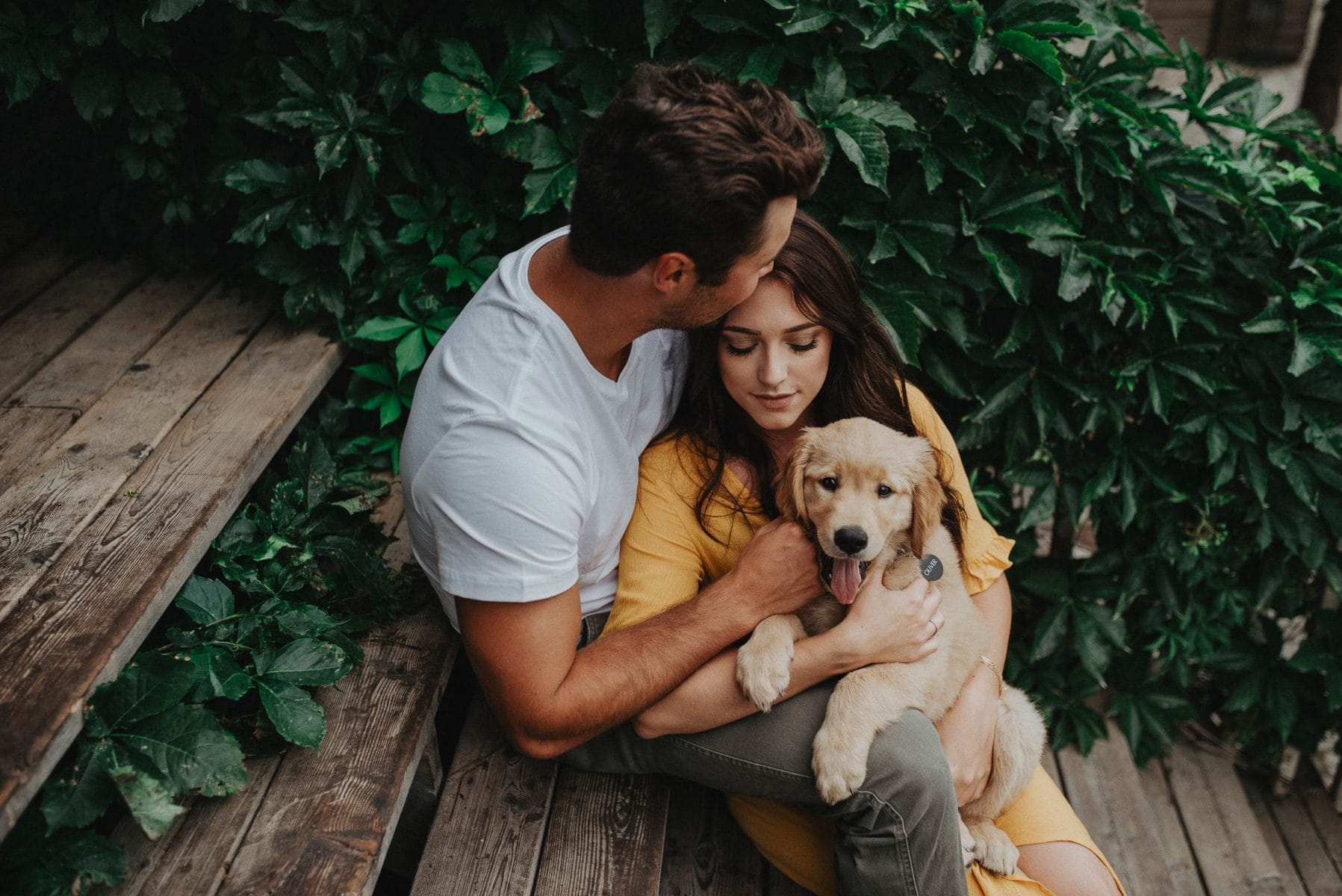 What if we tell you that you can have your pets as part of your pre-wedding shoot? Isn't it amazing? Pets are indeed an integral part of your family and your life as well. Then why not make them a part of your pre-wedding pictures and increase cuteness quotient. It would be a delight to capture your chemistry with your pet. This pre-wedding shoot idea will be loved by all animal-lovers. Everyone will just go AWWW!
Suggested Read: Places around Delhi for Pre-Wedding Shoot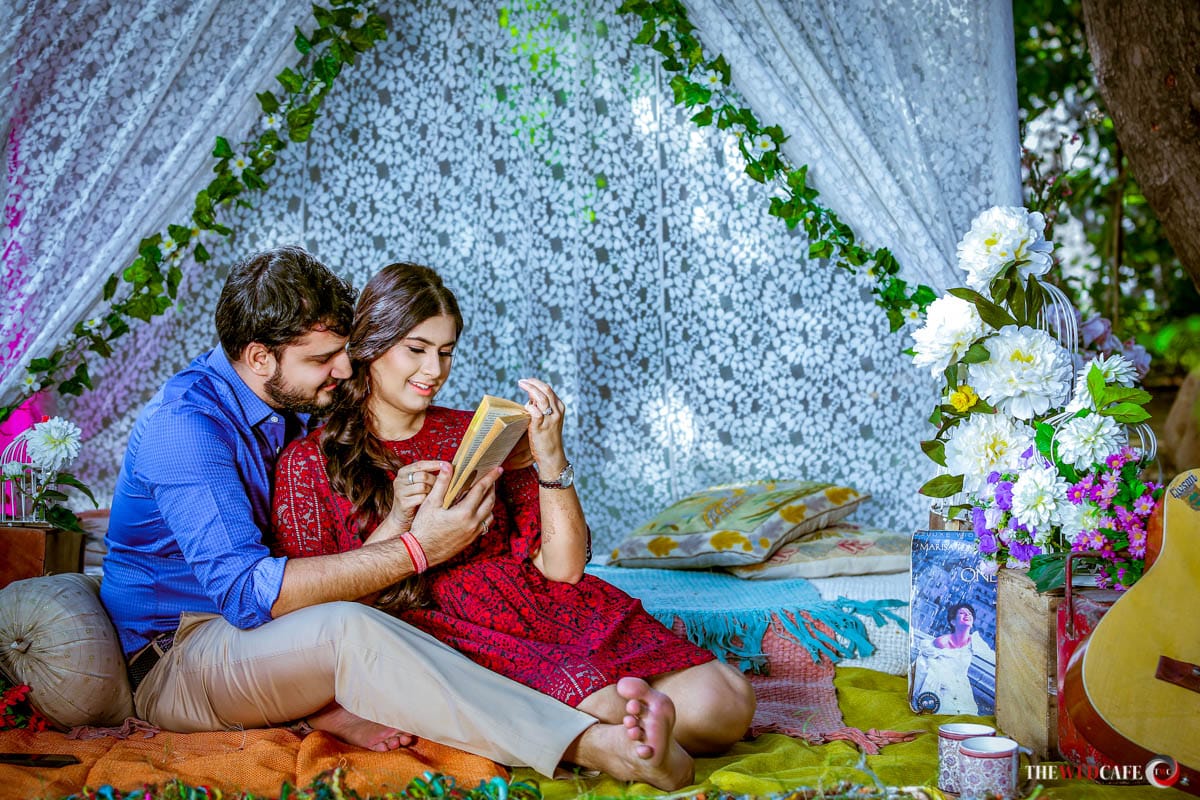 If we tell you that your pre-wedding shoot will have your own personal picnic amidst the fresh aura of trees and flowers, will you opt for such a marvellous setup?
If yes, then this pre-wedding shoot idea is not just unique but also one of the most romantic dates you will ever have with your partner. It will give both of you an opportunity to spend some quality time with your partner. Who doesn't love to take a leisurely walk in a park or sip some wine while reading a book with your partner?
And if you are too conscious while getting clicked then it's even better as you have to be there with your partner and there you go, you have got your photographs. This would be a perfect theme for you.
Suggested Read: Forts in Rajasthan Which are Just Perfect for Pre-wedding video & photoshoot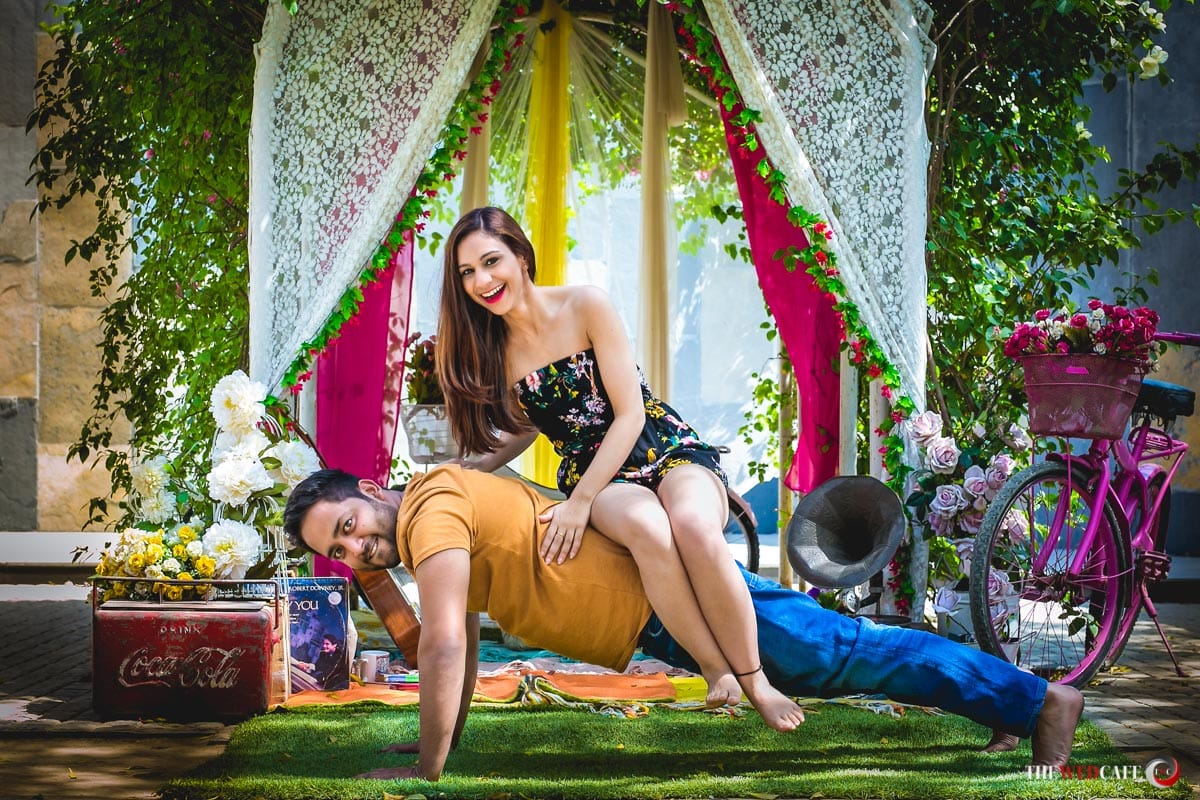 Having your pre-wedding shoot at a gym is quite hatke, isn't it? If you both are fitness enthusiasts and do gymming on a regular basis then this is a perfect setup for you.
You can also get your shoot done at a badminton or tennis court with all the required props.
Boys love flexing their muscles so why not give them a chance to flaunt them. Get a fun pre-wedding shoot done in a gym. Your partner is doing push-ups while you are sitting on him pushing him to do more push-ups.
Suggested Read: How to find the Best Photographer for your Wedding?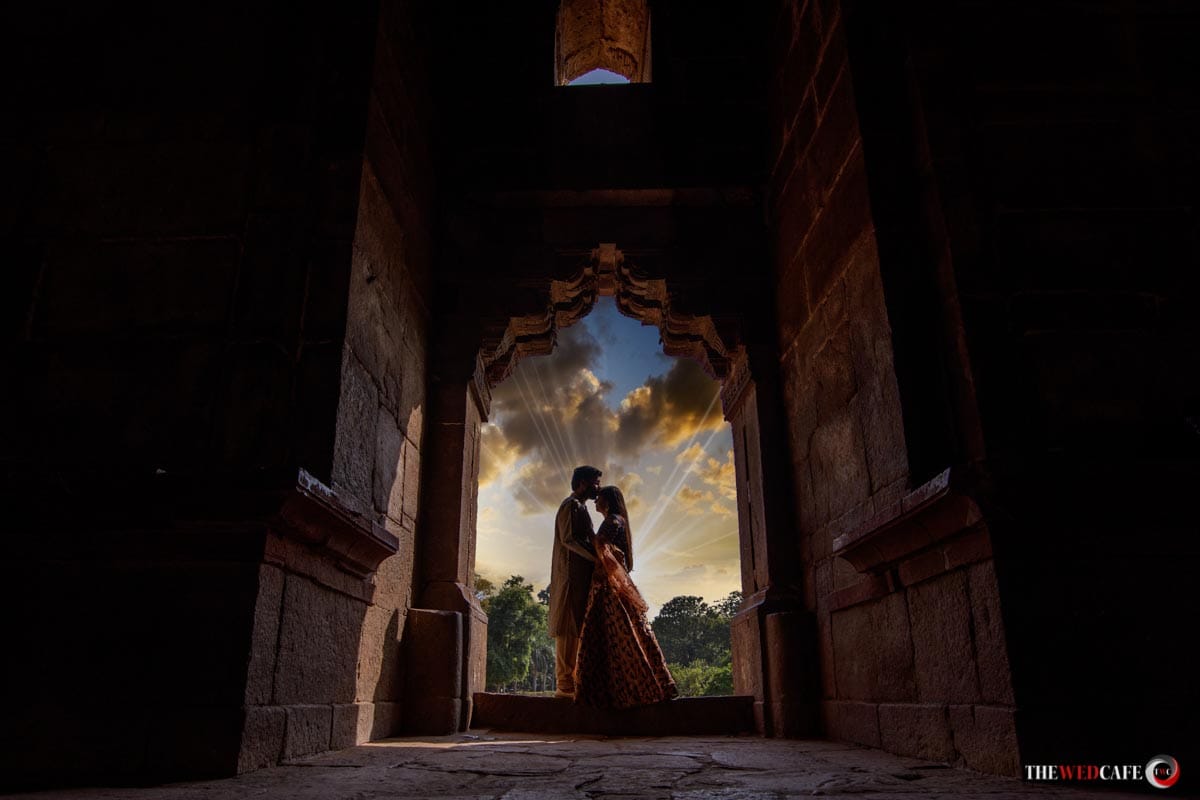 How about recreating the first time you both met? Doesn't this sound awesome. Not just awesome, but this would be a perfect way to do your kind of pre-wedding photoshoot. Going back to the first meet at the same place and remembering all those cute little moments will be a mesmerizing experience to capture the chemistry in the photographs.
Yes, he is annoying but then he is sweet no? Yes, she is the one. All these thoughts must have come in your mind on your very first date. So, just add those cute moments you experienced that day and showcase it beautifully through the pre-wedding photoshoot.
Suggested Read: Why You Need A Candid Wedding Photographer?
10. Black and white/ colour coordinated theme/ contrast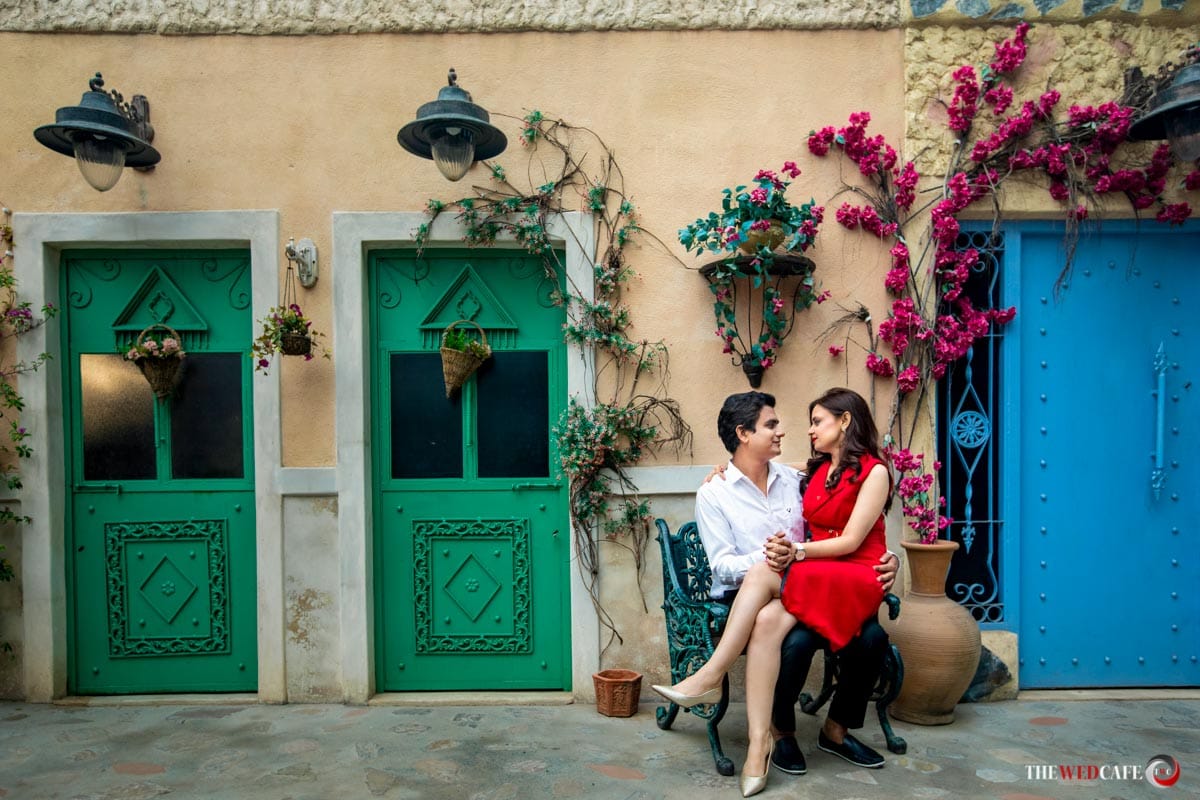 Colour coordinated photo shoots are in trend nowadays. You can either go for the classic black and white look or maybe spread your love by wearing the same hues of a colour which you both like. Often couples wear the same shade of a colour to complement each other. If you are not a couple who can wear matching clothes, then your outfits can be a stark contrast too.