Pre-wedding photoshoots are a growing trend for Indian weddings, and most couples now want to do such a shoot in a location that's beautiful and gives them the freedom to be themselves. While it's true that a bride and groom will have plenty of pictures together from their wedding, it's also a fact that there will be somebody in the pictures with them. To capture just the bride and the groom on their wedding day and have options for their portraits is a difficult task. They're busy with the rituals and with family, so pictures tend to take a backseat and the wedding photographer has to work with what they have.
However, during a pre-wedding shoot, it's just the bride, groom, and their photographer. They can take their time to get the perfect shot with the best lighting and background. They can choose their outfits based on how they're feeling on the day, instead of wearing a pre-decided, heavy outfit which will be the case on the wedding day. The bride and groom can be themselves with each other which is not always possible during the wedding, and the photographer can capture some truly special moments.
Suggested Read: 10 Killer pre-wedding shoot Ideas
Now that we've established the advantages of having a pre-wedding shoot, the next step is to choose the perfect background. If you're getting married soon, you will need to choose a location for your pre-wedding shoot that meets your requirements and allows photography. Couples in Delhi are blessed with an abundance of such places in and around their city, which can also make it difficult to choose. To help you pick the best, we've narrowed down to some of the best pre-wedding shoot locations in and around Delhi.
Suggested Read: What to wear on a pre-wedding shoot?
Here are 10 locations which can make the perfect background for beautiful pre-wedding pictures.
Garden of Five Senses, Delhi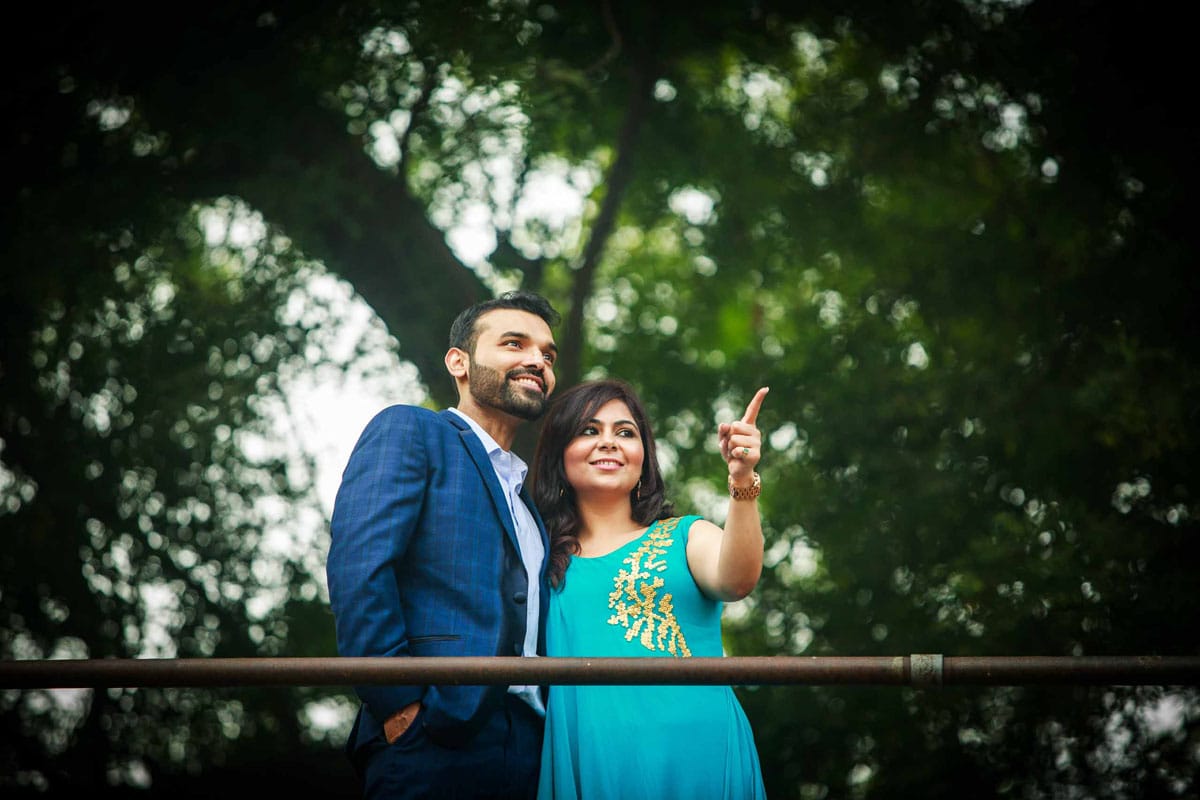 A beautiful garden in Saket, with fancy restaurants located within the vicinity, Garden of Five Senses is one of the best locations for a pre-wedding shoot in Delhi. It's peaceful, scenic, and if you go during spring, the colorful, blooming flowers in the background will make your pre-wedding pictures look absolutely gorgeous. It's spread over 20 acres so you have quite a choice of backgrounds within one location. There are also a few beautiful water bodies which you can make use of during your pre-wedding photoshoot.
Suggested Read: Things You Should Keep in Mind for An Outdoor Pre-Wedding Photoshoot
The Perfect Location, Faridabad
This is a unique location for a pre-wedding shoot and is also the most convenient for couples. With a variety of backdrops, including Greek and Indian themes, The Perfect Location offers a plethora of choices for pictures. You can also carry a change of clothes according to the various themes and change during the shoot. They have changing rooms for men and women where you can get dressed peacefully. You can also choose to be photographed against natural backgrounds of trees and flowers if you don't want to use the manmade backdrops. They also have props like old cars and rocks to add more character to your pictures.
Suggested Read: The Ultimate Checklist for Flattering Pre-Wedding Photoshoot
Okhla Bird Sanctuary
The Okhla Bird Sanctuary is a beautiful treasure within the city, one that not many people would expect to find between Noida and Delhi. It's one of the most peaceful and scenic locations in Delhi NCR which makes it perfect for pre-wedding photoshoots. The sanctuary charges for photography and videography within its premises but the background you'll get for your pictures is worth the nominal price. You might also spot some rare birds during your time here and discover a new favorite spot with your loved one.
Suggested Read: Why Pre-Wedding Photoshoots Are More Than Just A Trend?
Humayun's Tomb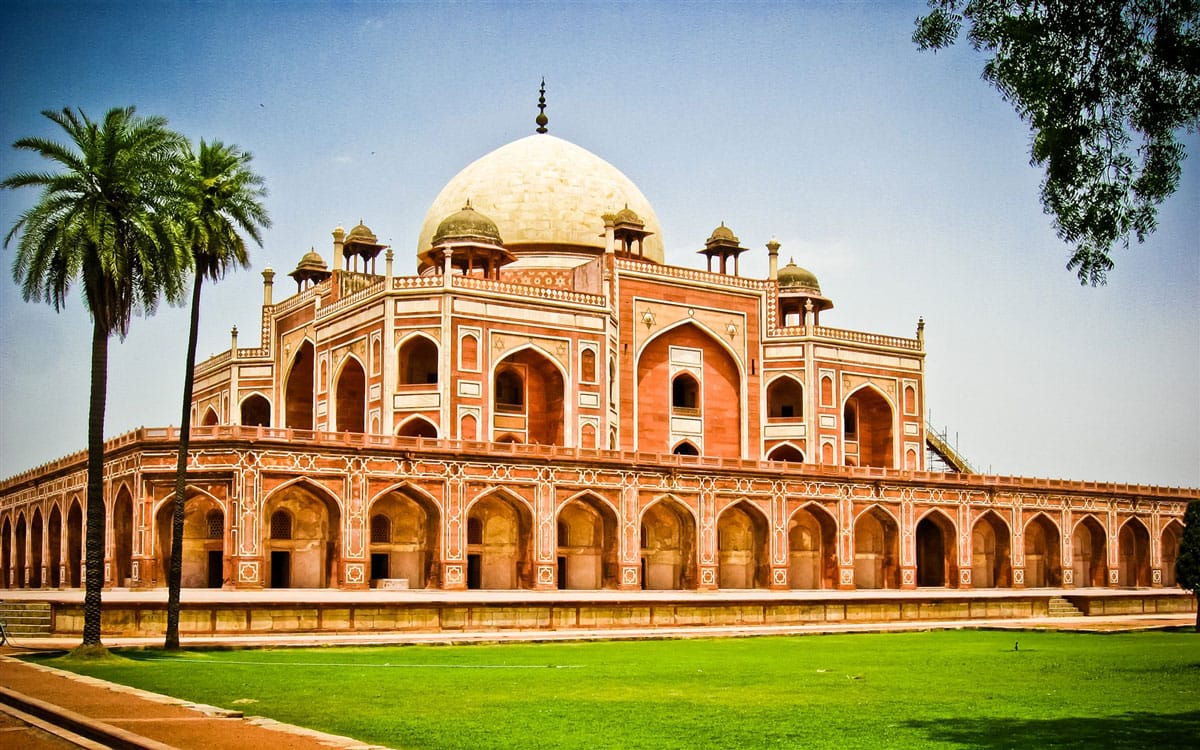 Picture credit: https://navrangindia.blogspot.in
A historical site and one of the most recognized structures of Delhi, Humayun's Tomb is another great location for your pre-wedding photoshoot. You can celebrate your love for one another and for Delhi with this magnificent monument in the background. The gardens around Humayun's Tomb and the corners and corridors of the monument give you a range of choices for your pre-wedding pictures. The grandeur of this historical structure will make you feel like a royal during your shoot and the pictures will have a unique old world charm to them.
Neemrana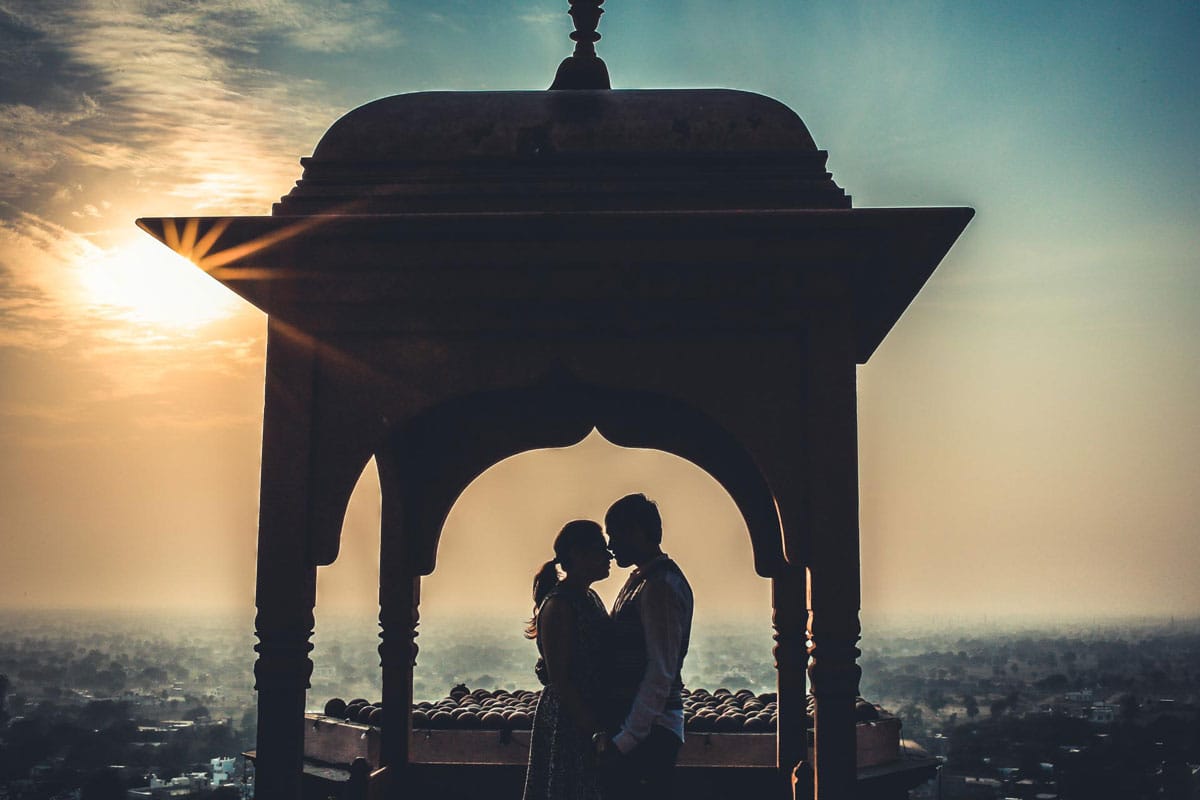 Neemrana is not only a picturesque fort an hour away from Gurgaon, it is also a renowned holiday destination. You can make your pre-wedding photo-shoot into a mini holiday to de-stress and chill before the wedding celebrations begin. Make your pictures come alive with the royal backdrop of a Rajasthani fort and the luxuries of a five-star hotel to pamper you.
Suggested Read: Forts in Rajasthan Which are Just Perfect for pre wedding shoot
The Lalit Mangar
Picture credit: https://www.whatsuplife.in/gurgaon/blog/best-hotels-resorts-near-gurgaon/the-lalit-mangar/
Not many people know about this hotel, but it's only about an hour away from Delhi. Located in Mangar, Faridabad, The Lalit Mangar is one of the only hotels in Delhi to have a beautiful view of the Aravalis. It's in a forest area with no semblance of traffic or city life around it. Mangar is a beautiful, untouched piece of land that still revels in the beauty of nature. The hotel can be contacted for all inquires regarding your photoshoot and maybe you can stay a night there to just relax and unwind with the one you love
ITC Grand Bharat
A fairly new property by ITC, this hotel in Manesar is located amid the Aravalis and has gorgeous views all around. The heritage look of this massive hotel and the grandeur of its surroundings ensure the perfect background for your pre-wedding pictures. There are several scenic spots around the hotel where you can click some great pictures and have them framed. The ITC Grand Bharat is so beautiful that your pictures won't really need any filters.
Suggested Read:- Top Destination Wedding Photographers in Delhi
Deer Park
Located in south Delhi, Deer Park is quite a cute location for your pre-wedding shoot. The park is landscaped beautifully with the feel of a dense forest in one area and an open park with small bridges in another area of the park. The cutest feature of all, of course, is the presence of deer in their protected habitat. Get pictures clicked with these beautiful creatures in the background and your pre-wedding pictures will stand out from the crowd.
Suggested Read: How to Pose for your Wedding Pictures?
Lodhi Art District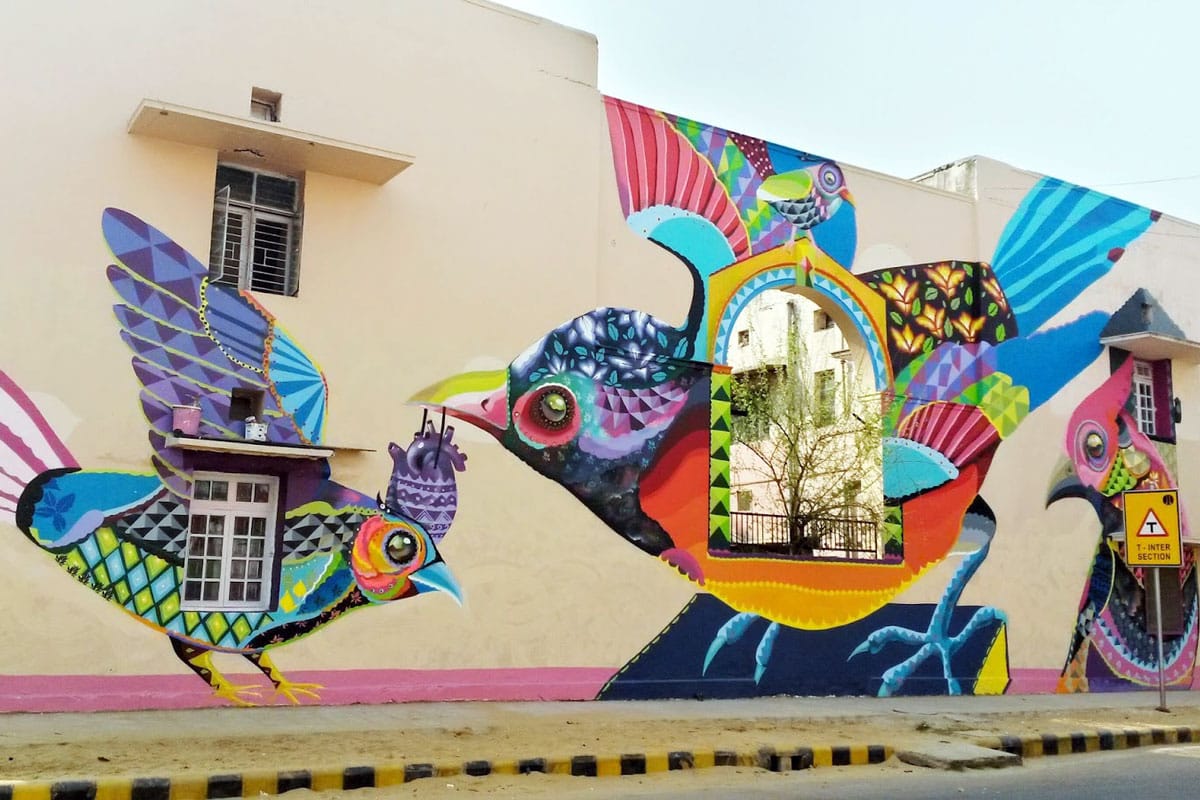 Picture credit: http://www.myunfinishedlife.com/lodhi-art-district-new-delhi-india/
For the artistic couple, Lodhi Art District is a gorgeous location for a pre-wedding photoshoot. With unique graffiti on the walls and Instagram-worthy backgrounds everywhere, it's very easy to find good spots for your photo-shoot here. The colors and the artistry will make your pictures pop with brightness.
Hauz Khas Village
Everyone knows Hauz Khas village for its party places and restaurants. But the unique thing about Hauz Khas village is its ruins and lake which are absolutely gorgeous. It's a favorite spot for morning and evening walks for people in neighbouring colonies because of how peaceful it is. If you go early in the morning for your pre-wedding photshoot, you might be able to get some good shots in before the crowds start coming in. If you're up for some attention from curious onlookers, it's also a great spot for sunset pictures.
While Delhi may not have beaches or snowy mountains, it definitely has a range of beautiful spots where you can click some great pictures for your pre-wedding photoshoot. So, go ahead and take your pick from this list.
Also See- Top Destination wedding photographers