Rajasthan is a hub of beautiful forts and palaces that once used to be the habitat of great kings and queens. These forts are so great in the grandeur that people still feel a royal charm here.
These forts are the main attractions of Rajasthan . People visit these forts not just for an excursion but also for other purposes like shooting images and videos. Mostly forts of Rajasthan are famous for pre-wedding and wedding shoots.

Yes, because these are the best places to portray the bride and groom as a king and queen! If royalty fascinates you and you want to feel like a royal someday, then you should shoot your wedding video in the forts of Rajasthan.
You can't use these forts as your wedding venues, but you can go to the forts for a wedding video shoot immediately after tying the knot! Now, let's see which forts of Rajasthan are perfect for your wedding video: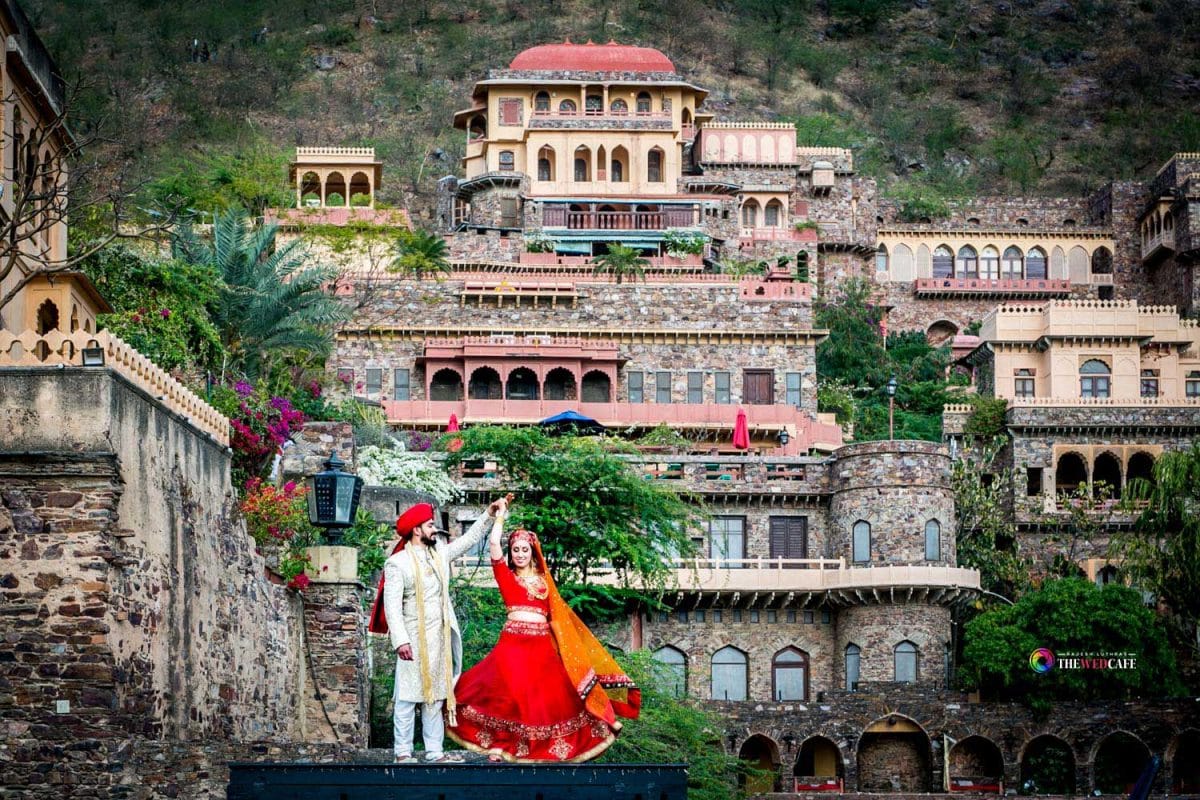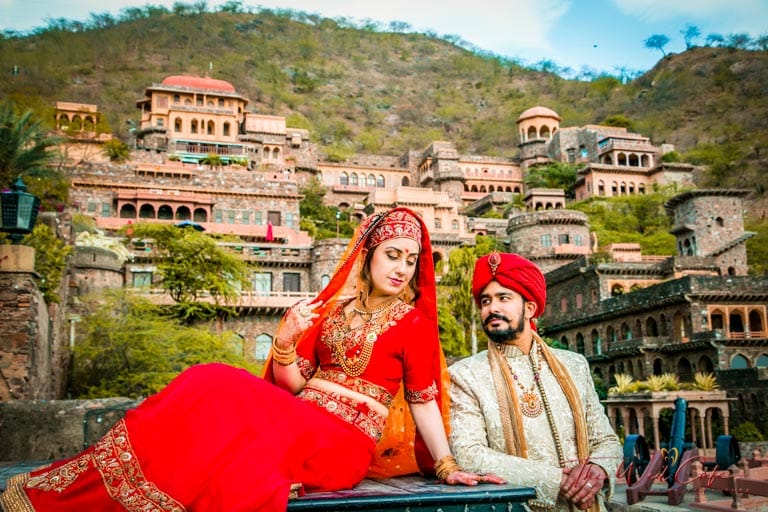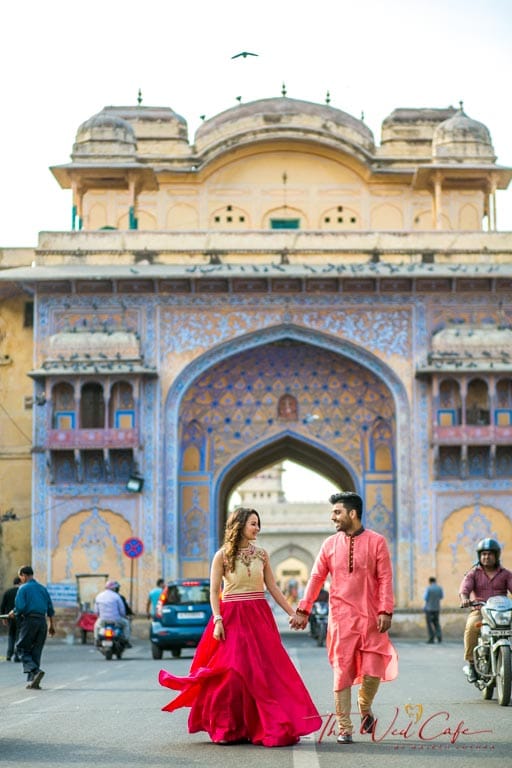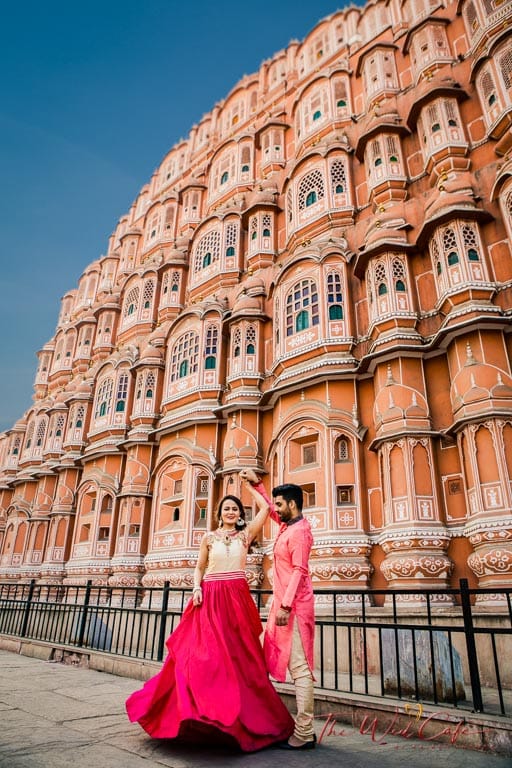 Amber Fort is the most popular and scenic fort of the capital city, Jaipur. The location of Amber Fort is as picturesque as its structure. It is located on the beautiful Aravalli Range overlooking the Maota Lake.
Created with red sandstone and marble, Amber Fort is a fine example of artistic craftsmanship of Rajasthan. There are so many beautiful sections like Hall of Public Audience, Hall of Private Audience, Sukh Niwas and Sheesh Mahal.
You can capture your wedding video with these amazing backdrops. Prefer to go in the early morning hours as in the evening, the fort remains flocked with tourists.

Suggested Read: How to Pose for your Wedding Pictures
Chittorgarh Fort, Chittorgarh:

Being one of the largest Fort of India, Chittorgarh can serve as an ideal wedding video venue for you. Sprawled over 692 acres of Land, Chittorgarh Fort is like a city in itself with so many picture-perfect backdrops.
There are 22 water bodies, many majestic towers like Vijay Stambh and Kirti Stambh and many huge temples. Apart from it, Chittorgarh Fort also houses the famous Jauhar Kund where Rani Padmini committed the act of self-immolation with other 13,000 ladies.
The mountainous landscape makes it perfect for your wedding shoot and videos. The combination of lush greenery and huge sandstone structure with bastions and towers is all that you need to portray your wedding in a royal manner!

Suggested Read: Why You Need A Candid Wedding Photographer?
Jaisalmer Fort, Jaisalmer:

The golden city of Jaisalmer houses the equally golden looking fort, namely Jaisalmer Fort. This massive structure stands tall overlooking the whole city of Jaisalmer. Well, it means one can capture not only the views of the fort but also the aerial views of entire Jaisalmer from here.
Featuring two major cannon points, four huge gateways, 99 bastions, beautiful temples and merchant Havelis, Jaisalmer Fort is an ultimate photo-shoot destination for couples. Wear the traditional Rajasthani attires and get ready to be portrayed as the brave king and queen of Rajasthan!
There is also a museum and a beautiful market where you can stroll with your partner after the video shoot.

Suggested Read: The Ultimate Checklist for Flattering Pre-Wedding Photoshoot
Mehrangarh Fort, Jodhpur:

Mehrangarh Fort is one of the largest forts of Rajasthan; so you can visit this one to find plenty of royal backdrops for your wedding video. This fort is so scenic that it has attracted many Bollywood and even Hollywood directors for their movie shoots.
Situated atop a 410 feet high hill, this massive structure has seven gates. These gates were used for various purposes in the royal times, but now, all of these have become a projection of history.
The fort also houses marvellous palaces like Sheesh Mahal and Phool Mahal. The beautiful wall carvings, huge courtyards and a well-stocked museum make Mehrangarh Fort an ideal place for a wedding video shoot.

Suggested Read: Ways to Flaunt your Jewellery in your Wedding Photography
Kumbhalgarh Fort, Kumbhalgarh:

Kumbhalgarh fort is another massive fort of Rajasthan with no dearth of architectural wonders. This fort is mainly famous for its huge area, majestic seven gates, 36 km long serpentine wall and mesmerising palaces.
You will be surprised to know that this one fort houses 300 temples that are no smaller in size. It also houses prominent structures like Badal Mahal which was the birthplace of famous King Maharana Pratap.
Along with the fort structures like baoris, water reservoirs, chhatris and temples, you can also capture panoramic views of Thar Desert Sand Dunes which are perfectly visible from here.

Ranthambhore Fort, Ranthambhore:

Built in the 12th century, Ranthambhore Fort is one of the ancient forts of Rajasthan. This long period hasn't affected the beauty of this fort in any manner. Instead, it has just heightened the charm of this fort, making it a more historic-looking structure.
Ranthambhore Fort is surrounded by lush forests that form Ranthambhore National Park. So, the surroundings of this fort also contribute to its beauty. The massive walls, majestic gates, carved pillars, domes and palaces portray the traditional Rajasthani architecture here.
You can capture your wedding video with a touch of nature here. Yes, along with greenery, you will also be able to feature animals like monkeys and peacocks in your wedding video in Ranthambhore Fort.

Suggested Read: Top Wedding Photographers in Delhi
Junagarh Fort is a well-built fort which you can consider for your wedding video if you are planning to tie the knot somewhere near Bikaner as this fort is situated there. Junagarh Fort is still in a very good condition and visited by many tourists.
A blend of various architectural styles like traditional Rajput architectures, Mughal architectures and semi-western architectures make it a unique fort. You will find backdrops of temples, mosques, gardens, Buddhist monuments, beautiful mansions and Gothic archways here.
There are so many majestic palaces where you can portray your beautiful love story. There is a museum as well which you can explore with your spouse to know the complete history of Junagarh Fort.
So, get ready to be featured in the most royal wedding video in these wonderful forts of Rajasthan. Dress up like the mighty royals to get the full royal vibes. Explore the forts with your spouse after shooting a super amazing wedding video!